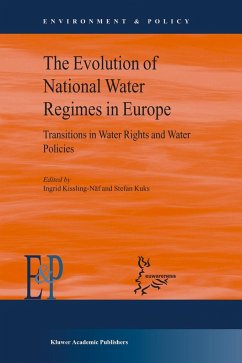 Andere Kunden interessierten sich
auch
für


This book examines the development of water management in the Netherlands, Belgium, France, Spain, Italy and Switzerland. It is based on the European research project EUWARENESS. The authors apply a theoretical framework for the analysis of institutional regimes, water governance and property rights. The evolution of national water resource regimes is described over a period of almost 200 years (1800-2000). The long-term perspective enables the reader to see the conditions under which regime transformation and paradigm change are made possible. The book also includes a critical analysis of policy making by the European Union, and a comparative review and analysis of regime development in the six countries involved.

This book is followed by another volume published with Kluwer Academic Publishers on "Integrated Governance and Water Basin Management", edited by Hans Bressers and Stefan Kuks.


Produktdetails
Environment & Policy 40
Verlag: Springer / Springer Netherlands
Erscheinungstermin: Dezember 2004
Englisch
Abmessung: 249mm x 167mm x 24mm
Gewicht: 714g
ISBN-13: 9781402024832
ISBN-10: 1402024835
Artikelnr.: 13741015
Preface.- List of contributors.- 1. Introduction to Institutional Resource Regimes: Comparative framework and theoretical background; I. Kissling-Näf, S. Kuks.- 2. The Sustainability Performance of National Resource Regimes; S. Kuks.- 3. The Evolution of European Water Policy: Towards integrated resource management at EU level; D. Aubin, F. Varone.- 4. The Evolution of the Water Regime in the Netherlands; S. Kuks.- 5. The Evolution of the Water Regimes in Belgium; D. Aubin, F. Varone.- 6. The Evolution of the Water Regime in France; I. Sangaré and C. Larrue.- 7. The Evolution of the Water Regime in Spain; M. Costejà, N. Font, A. Rigol, J. Subirats.- 8. The Evolution of the Water Regime in Italy; A. Goria, N. Lugaresi.- 9. The Evolution of the Water Regime in Switzerland; C. Mauch, E. Reynard.- 10. Comparative Review and Analysis of Regime Changes in Europe; S. Kuks.