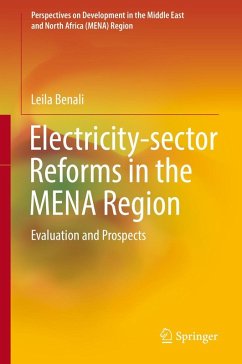 Andere Kunden interessierten sich
auch
für


Complementing existing research on electricity-sector reforms in other emerging markets, the book provides a new analytical framework for assessing reforms that can be easily applied to other markets and sectors.


Produktdetails
Perspectives on Development in the Middle East and North Africa (MENA) Region
Artikelnr. des Verlages: 978-3-319-96267-2
1st ed. 2019
Seitenzahl: 272
Erscheinungstermin: 11. Oktober 2018
Englisch
Abmessung: 241mm x 160mm x 20mm
Gewicht: 562g
ISBN-13: 9783319962672
ISBN-10: 3319962671
Artikelnr.: 52911455
- Introduction. - A Unique Confluence: Demographics, Socio-economics and Politics. - Three Main Drivers of Electricity- Sector Reforms. - Evaluation Step 1 -Impact on Production Costs (Performance) and Investments (Incentive). - Evaluation Step 2- How Optimal is the Sequencing of the Reform? - Evaluation step 3- Attractiveness, Feasibility. - Evaluation step 4- Credibility. - Evaluation Step 5- Remediability, or the Critical Path to Survival. - Prospects and Future of Reforms: Fuel mix Options. - Prospects and Future of Reforms: Resources Monetization. - Conclusion - Evolution of the Single Buyer Model in MENA.