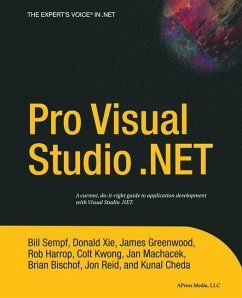 Andere Kunden interessierten sich
auch
für


This book reveals and demystifies the product to enable programmers to do their job more quickly and with fewer errors. All the authors are well known in each field of .NET development and lever their hands-on experience of making the tool work in the real world. Programmers will understand how to tweak this environment to get the very best out of it and learn by seeing practical tasks put into, and through Studio, to get the best results.
---
This book offers a clear path of discovery into VS .NET to get you comfortable with it and then demonstrates how to effectively tweak it to the development need.
Very well received original edition : 9000 sales before liquidation forced de-stock.
Offers a look forward to Visual Studio.NET (Whidbey).
Produktdetails
Verlag: Apress
Softcover reprint of the original 1st ed.
Seitenzahl: 612
Erscheinungstermin: 1. September 2004
Englisch
Abmessung: 235mm x 191mm x 32mm
Gewicht: 956g
ISBN-13: 9781590593684
ISBN-10: 1590593685
Artikelnr.: 12733822
- Introduction to VS.NET
- Building Windows Applications
- Building Web Applications
- Building Database and XML Apps
- Building Smart Device and Mobile Apps
- Source Safe
- Testing and Performance
- Project Deployment
- Crystal
- Customizing VS.NET
- Add-Ins
- Macros
- Wizards
- Enterprise Options
- Looking Forward to 2.0
- Webliography
- Project Files
- VS.NET Directory Structure
- The .NET SDK Toolkit
- VS.NET and Certification.