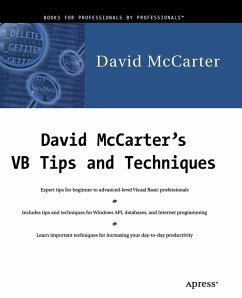 Andere Kunden interessierten sich
auch
für
---
In his new book, veteran Visual Basic programmer David McCarter provides VB professionals with a variety of important new tips and techniques designed to maximize day-to-day productivity. Those who enjoyed David's first book, VB Tips and Tricks, will find the author's familiar style paired with content of special interest to intermediate and advanced developers.
Produktdetails
Verlag: APRESS / APress
1st ed
Seitenzahl: 194
Erscheinungstermin: 1. Juni 2000
Englisch
Abmessung: 237mm x 187mm x 14mm
Gewicht: 441g
ISBN-13: 9781893115224
ISBN-10: 1893115224
Artikelnr.: 08799345
1. Some Hot Tips to Get You Started
2. Tips on Working with Strings and Arrays
3. Tips on Working with Controls
4. Disk and File Tips and Tricks
5. Tips and Tricks to Use with Forms
6. Tips from the World of Windows API
7. Tips on Visual Basic and the Internet
8. Database Tips for Visual Basic and Microsoft Access
9. Tips and Tricks on Some Advanced Stuff
10. Miscellaneous but Nevertheless Super-Useful Tips

He's not out to teach the whys and wherefores, but show you how to do things, no bad thing for this type of book....It is a surprisingly useful little book - one that is worth flicking through from time to time. It's likely to live alongside books such as O'Reilly's VB and VBA in a Nutshell - to help with a specific problem. (Computing) "The author does a very good job of explaining each tip logically with one often leading onto the next one... Whether you are a beginner, intermediate or advanced VB programmer, this is a good book that you can pickup, read a few pages (tips or techniques) and put down after a couple of minutes or hours of reading." (Zarr's VB Website).