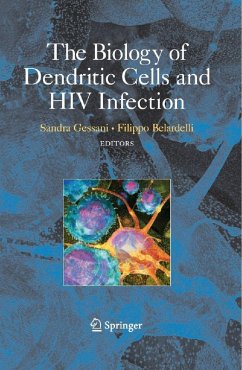 Andere Kunden interessierten sich
auch
für
---
Dieser Download kann aus rechtlichen Gründen nur mit Rechnungsadresse in A, B, BG, CY, CZ, D, DK, EW, E, FIN, F, GB, GR, HR, H, IRL, I, LT, L, LR, M, NL, PL, P, R, S, SLO, SK ausgeliefert werden.
Produktdetails
Verlag: Springer-Verlag GmbH
Erscheinungstermin: 09.03.2007
Englisch
ISBN-13: 9780387337852
Artikelnr.: 37288335
General Aspects of Dendritic Cell Biology, Functions, and Clinical Application.- Dendritic Cell Biology: Subset Heterogeneity and Functional Plasticity.- Dendritic Cells and Their Role in Linking Innate and Adaptive Immune Responses.- Dendritic Cell and Pathogen Interactions in the Subversion of Protective Immunity.- Dendritic Cells as Keepers of Peripheral Tolerance.- Adjuvants, Dendritic Cells, and Cytokines: Strategies for Enhancing Vaccine Efficacy.- Ex Vivo-Generated Dendritic Cells for ClinicalTrials versus In Vivo Targeting to Dendritic Cells: Critical Issues.- General Aspects of the Pathogenesis and Immune Response to HIV-1 Infection.- Immunopathogenesis of HIV Infection.- Innate Cellular Immune Responses in HIV Infection.- Adaptative Immune Responses in HIV-1 Infection.- Dendritic Cells and HIV Interactions and Their Role in Pathogenesis and Immunity.- Binding and Uptake of HIV by Dendritic Cellsand Transfer to T Lymphocytes: Implicationsfor Pathogenesis.- Loss, Infection, and Dysfunction of Dendritic Cells in HIV Infection.- HIV Exploitation of DC Biology to Subvertthe Host Immune Response.- Cross-Presentation by Dendritic Cells: Rolein HIV Immunity and Pathogenesis.- Immunotherapy of HIV Infection: Dendritic Cells as Targets and Tools.