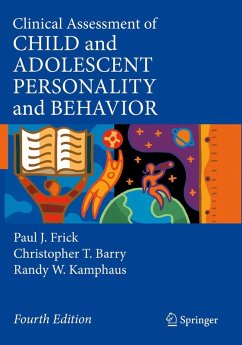 Andere Kunden interessierten sich
auch
für
This new edition:
Highlights how current trends in psychological classification, such as the DSM-5 and the Research Domain Criteria, should influence the clinical assessment of children and adolescents.
Provides updates to professional standards that should guide test users.
Discusses practical considerations in planning and conducting clinical assessments.
Evaluates the most recent editions of common tests used in the clinical assessment of child and adolescent personality and behavior.
Provides an overview of how to screen for early signs of emotional and behavioral risk for mental problems in children and adolescents.
Discusses practical methods for integrating assessment information collecting as part of a clinical assessment.
Uses current research to guide clinical assessments of children with Attention-deficit/Hyperactivity Disorder, conduct problems, depression, anxiety, and autism spectrum disorder.
Clinical Assessment of Child and Adolescent Personality and Behavior
is a valuable updated resource for graduate students as well as veteran and beginning clinicians across disciplines, including school, clinical child, developmental, and educational psychology; psychiatry; counseling; and social work; as well as related disciplines that provide mental health and educational services to children and adolescents.
Produktdetails
Artikelnr. des Verlages: 978-3-030-35697-2
4. Aufl.
Seitenzahl: 460
Erscheinungstermin: 12. Juni 2021
Englisch
Abmessung: 254mm x 178mm x 24mm
Gewicht: 868g
ISBN-13: 9783030356972
ISBN-10: 3030356973
Artikelnr.: 61874665
Part I: Basic Issues.- Chapter 1. Historical Trends.- Chapter 2. Measurement Issues.- Chapter 3. Classification and Developmental Psychology.- Chapter 4. Ethics in Testing: Rights, Responsibilities, and Fairness.- Chapter 5. Planning the Evaluation and Rapport Building.- Part II: Assessment Models.- Chapter 6. Self-Report Inventories.- Chapter 7. Parent and Teacher Rating Scales.- Chapter 8. Behavioral Observations.- Chapter 9. Peer-Referenced Assessment.- Chapter 10. Projective Techniques.- Chapter 11. Structured Diagnostic Interviews.- Chapter 12. Assessing Family Context.- Chapter 13. Clinical Interviews.- Chapter 14. Behavioral and Emotional Risk Screening.- Part III: Advanced Topics.- Chapter 15. Integrating and Interpreting Assessment Information.- Chapter 16. Report Writing.- Chapter 17. Assessment of Attention Deficit Hyperactivity Disorder and Disorders of Conduct.- Chapter 18. Assessment of Depression and Anxiety.- Chapter 19. Assessment of Autism Spectrum Disorder.