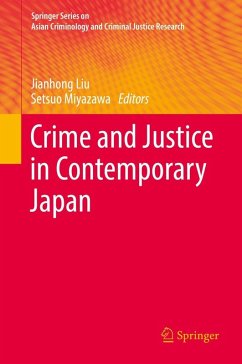 Andere Kunden interessierten sich
auch
für
In previous decades, Japan attracted international attention as the only industrialized country where the crime rate declined along with a rise in urbanization and economic development. Currently, Japan still enjoys a declining crime rate (the lowest among major industrialized countries) and a study of criminal justice practices in Japan may provide important insights for other regions.
Japan also experiences important contemporary challenges which are shared by other regions:
1. Japan has the highest proportion of people over the age of 60 in the world. For criminology, this means key challenges in the victimization of older people, as well as the challenges of an aging prison population.
2. Besides the United States, Japan is the only developed country that still practices capital punishment, and its rate has been on the rise in the past 20 years.
3. Japan has also introduced new reforms in its law practice, including the introduction of new trial formats.
The research in this book provides a helpful overview for scholars interested in criminology and criminal justice in Japan to understand the key issues of concern, and present a framework for future research needs. It will be of interest to researchers in criminology and criminal justice, international studies, Asian Studies, sociology, and political science.
---
Dieser Download kann aus rechtlichen Gründen nur mit Rechnungsadresse in A, B, BG, CY, CZ, D, DK, EW, E, FIN, F, GR, HR, H, IRL, I, LT, L, LR, M, NL, PL, P, R, S, SLO, SK ausgeliefert werden.
Produktdetails
Verlag: Springer-Verlag GmbH
Seitenzahl: 352
Erscheinungstermin: 15.12.2017
Englisch
ISBN-13: 9783319693590
Artikelnr.: 52935748
1. Asian Criminology and Crime and Justice in Japan - an IntroductionPart 1: Changing Crimes in Japan2. Changes in Crime and Reactions to Crime in Japan Becoming Stagnant with Aging3. Kin, Crime and Criminal Justice in Contemporary Japan4. Incidents of Homicides or Murder-suicides by Family Caregivers in Japan and Challenges for Prevention 5. The Effect of Disaster Damage on the Occurrence of Crime: A Survey of Residents of Four Prefectures Affected by the Great East Japan Earthquake6. Revisiting Japan's Postwar Homicide Trend, 1951-2014Part 2: Testing and Developing Theories of Crime and Delinquency. 7. Risk Factors for Serious Delinquency in Japan: Findings from Osaka Male Youths8. Laying the Groundwork for Testing the Routine Activity Theory at the Micro Level Using Japanese Satellite Positioning Technology9. Analysis of Current Criminals in Japan based on typology of relationships with others.Part 3: Challenges and Trends in Criminal Justice Reform10. Considering Japanese Criminal Justice from an Original Position11. Sentencing and Punishment in Japan and England: A Comparative Discussion 12. Fire, Coerced Confession, and Wrongful Conviction: A Tale of Two Countries13. From measuring support for the death penalty to justifying its retention: Japanese public opinion surveys on crime and punishment, 1956-2014 14. Crime victims' protection under the free speech law in JapanPart 4: Lay Judges System 15. The Impact of Previous Sentencing Trends on Lay Judges' Sentencing 16. To be suspended or not to be? The effects of emotions and personality variables on lay people's judgment of suspension of punishment17. Future of Criminal Justice Policy for Sex Crime in Japan: The Possible Impacts by the Lay Judge SystemPart 5: Juvenile Justice and Support System in Japan18. The Juvenile Justice System of Japan: An Overview19. Empirical Research on Socio-Cultural Transition in Children in the Children's Self-Reliance Support Facility and the Effect of Support