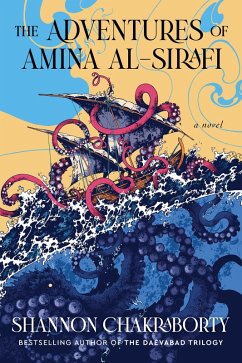 Geräte: eReader

mit Kopierschutz

Größe: 3.14MB

FamilySharing(5)
Andere Kunden interessierten sich
auch
für
The River of Silver (eBook, ePUB)

auch für"> 0

The Fate of the Tearling (eBook, ePUB)

auch für"> 1

auch für"> 2

The Wolf and the Woodsman (eBook, ePUB)

auch für"> 3

The Sharing Knife Volume One (eBook, ePUB)

auch für"> 4

The High Lord (eBook, ePUB)

auch für"> 5

The Empire of Gold (eBook, ePUB)

auch für"> 6
auch für"> 7
auch für"> 8
auch für"> 9
"A thrilling, transportative adventure that is everything promisedChakraborty's storytelling is fantasy at its best." -- R.F. Kuang, #1 New York Times bestselling author of Babel and The Poppy War"An exhilarating, propulsive adventure, stitched from the threads of real history, Amina's adventures are the reason to read fantasy." -- Ava Reid, internationally bestselling author of Juniper & ThornShannon Chakraborty, the bestselling author of The City of Brass, spins a new trilogy of magic and mayhem on the high seas in this tale of pirates and sorcerers, forbidden artifacts and ancient mysteries, in one woman's determined quest to seize a final chance at gloryand write her own legend.
Amina al-Sirafi should be content. After a storied and scandalous career as one of the Indian Ocean's most notorious pirates, she's survived backstabbing rogues, vengeful merchant princes, several husbands, and one actual demon to retire peacefully with her family to a life of piety, motherhood, and absolutely nothing that hints of the supernatural.
But when she's tracked down by the obscenely wealthy mother of a former crewman, she's offered a job no bandit could refuse: retrieve her comrade's kidnapped daughter for a kingly sum. The chance to have one last adventure with her crew, do right by an old friend, and win a fortune that will secure her family's future forever? It seems like such an obvious choice that it must be God's will.
Yet the deeper Amina dives, the more it becomes alarmingly clear there's more to this job, and the girl's disappearance, than she was led to believe. For there's always risk in wanting to become a legend, to seize one last chance at glory, to savor just a
bit
more power...and the price might be your very soul.
---
Dieser Download kann aus rechtlichen Gründen nur mit Rechnungsadresse in A, B, BG, CY, CZ, D, DK, EW, E, FIN, F, GR, HR, H, I, LT, L, LR, M, NL, PL, P, R, S, SLO, SK ausgeliefert werden.
"A thrilling, transportative adventure that is everything promised-Chakraborty's storytelling is fantasy at its best." -
R.F. Kuang, #1 New York Times bestselling author of Babel
"Chakraborty's seafaring adventure is pure incandescence and adrenaline. Readers will leave these pages with their lungs full of ocean air, their fingertips glittered with magic and their hearts a little heavier for being both smitten and heartbroken by its finely drawn, poignant cast of characters. This is a book I will daydream of for years to come." -
Roshani Chokshi, New York Times bestselling author of The Last Tale of the Flower Bride
"I read
The Adventures of Amina al-Sirafi
with a wide grin, my heart thrilling at each twist in our protagonist's story. The sense of place Chakraborty has conjured is one of the novel's signal achievements. Her research on the politics of the Indian Ocean in the 12th century is evident throughout, and there is plenty of adroit commentary on class conflict, piety, warfare and gender politics, particularly how these things are perpetuated through myth and storytelling. But there is also the fulfilled promise of a good time."
-
New York Times Book Review
"Sheer joy, with quirky characters, spooky monsters, sprightly banter, and swashbuckling that puts Sindbad to shame." -
Kirkus Reviews (starred

review)
"Chakraborty delivers again with a captivating story of motherhood, faith, friendship, dangerous magic, and hijinks on the high seas. Amina al-Sarafi is now my favorite pirate captain and I'm on board to follow all her adventures." -
Fonda Lee, author of The Green Bone Saga
"
The Adventures of Amina al-Sirafi
sets sail on a breathtaking high-stakes revenge tour filled with rollicking thrills and whiplash twists on a magical reimagining of the Indian Ocean. Amina is the big-hearted, scandalous captain I would follow to the end of the world. Chakraborty gives no quarter as she walks the reader right up to the edge of the plank and then shoves them over."
-
Wesley Chu, #1 New York Times bestselling author of The War Arts Saga
"A swashbuckling high seas quest that's rousing, profound and irresistible. . . Impressively researched history underpins it all, offering fascinating context and realism that elevate this adventurous tale of a fantastical heist as it explores parenthood, faith, ambition, friendship and the enduring allure of forging a legacy." -
BookPage (starred review)
"Readers will...be delighted by the extra, fantasy-filled pages and fresh conflict in the true final act. This pirate fantasy set in the medieval Middle East will appeal to a wide range of readers, just as Chakraborty's books have in the past." -
Booklist (starred review)
THE ADVENTURES OF AMINA AL-SIRAFI is a rollicking adventure amongst an aging, disreputable crew of pirates. These are characters you'll easily fall in love with, with prose that sweeps you along for the ride. Chakraborty has outdone herself, writing a stirring homage to the dreams we put aside for duty and the love of others, while also daring to ask: why not both?" -
Andrea Stewart, author of The Bone Shard Daughter
"Chakraborty immerses readers in a rich historical landscape, plunges them into deftly paced adventure, and throws them in with an ensemble cast of lovable if piratical misfits-but the heart of the story is fierce, flawed, exquisitely human Amina. A transporting, absorbing, and utterly delightful read." -
Rowenna Miller, author of The Unraveled Kingdom
"If readers are not won over by the playful plot twists and thrilling action sequences, they will fall for the charmingly crooked cast and dry humor. This swashbuckling adventure is sure to delight." -
Publishers Weekly
"Another excellent addition from an excellent author, and I hope some movie studio somewhere is smart enough to option the rights. . . This is a book with heart, filled with fear and fun, and I really can't recommend it enough." -
Lightspeed Magazine
"Chakraborty's latest unfurls like a scroll of ancient parchment, conjuring realer-than-life monsters, menacing magic, and a heroine with a gnarled, beating heart. An exhilarating, propulsive adventure, stitched from the threads of real history, Amina's adventures are the reason to read fantasy. I'll follow this captain and her crew anywhere." -
Ava Reid, internationally bestselling author of The Wolf and the Woodsman
"With heart and exceptional-(though entirely unsurprising)-acuity, yet again Chakraborty raises the bar for the fantasy genre, this time by spiriting her readers into an epic, nautical world as rich as it is enchanting from start to finish. This tale's voice is cleverly rendered, its plot is deeply nuanced, and its characters are as wonderfully complex as they are charismatic.
The Adventures of Amina al-Sirafi
has all the trappings of a classic, and is truly a masterpiece."
-
Ayana Gray, New York Times bestselling author of the Beasts of Prey trilogy
"The pirate adventure of your dreams-fun, fast-paced, frightening and rich with heart.
The Adventures of Amina al-Sirafi
is a must-read." -
Tasha Suri, author of The Jasmine Throne

"Chakraborty creates a world of high stakes and action, enhanced by its excellent representation. . . as well as its challenge to gender roles. An energetic start to a pirate fantasy trilogy, filled with magic, mayhem, and self-reflection." -
Library Journal
"A swashbuckling adventure with genuine stakes and richly developed oddball characters whose found family of misfits vibe is endlessly charming, the novel's brisk pace and dry self-deprecating narrative style (the story is framed as Amina recounting-and commenting on-her life story for a scribe) help the pages fly by, and Chakraborty's detailed, immersive worldbuilding makes the various villages and island of her medieval Islamic world sing with life. But what truly makes
The Adventures of Amina Al-Sirafi
stand out is its heroine. " -
Paste Magazine
"Simply put, this book
rules
. Even within the first few pages, I kept having to put it down to kick and scream into a pillow like a schoolgirl with a crush. . . The adventure is pure, unparalleled fun, and everything you could possibly want in a pirate story. There's magic, demons, monsters, and heists on the high seas. A win for all of you wanting stories with older protagonists, and a must-read for anyone looking for a joyful, un-put-downable reading experience." -
Tor.com
"A swashbuckling pirate queen, magic stones, mystical encryptions, and a pan-islamic high sea fantasy -- S.A. Chakraborty's unusual epic will thrill fans of history and mystery alike. I loved this book."
-
Usman T. Malik, World Fantasy Award winning author of Midnight Doorways: Fables from Pakistan
"Take dark magic, lurking monsters, and a Muslim woman pirate captain (who is also a mother with a tricky knee) and add in a former demon for a love interest - these are just some of the wonderful aspects that make Chakraborty's latest an entrancing read." -
The Cut
"A story of page-burning action, mysticism and magic, and
so much
heart" -
Fantasy Hive
"Playful, enchanting, and immersive,
The Adventures of Amina Al-Sirafi
is a perfectly charming fantasy novel set in the medieval Islamic world that will awaken a spirit of adventure in all ages." -
CrimeReads