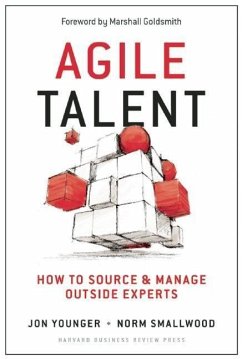 Andere Kunden interessierten sich
auch
für


Campbell Soup Company and PepsiCo seek advice from anthropologists to understand customer tastes and preferences. Google and Intel engage experts in social science and biomechanics to assess how people think about and use technology.

Companies are gaining advantage through a new capabilitystrategic use of external expertsmade possible by technology and the globalization of talent. Leaders everywhere recognize that lean," agile," and fast" strategies require new ways to access and leveragewithout owningkey talent to fill critical gaps. As managers seek nontraditional sources of strategic talent and experiment with fast, flexible ways of engaging these experts, they need a new roadmap.

This book delivers that roadmap. It tells you how to assess, choose, attract, develop, support, and retain your external talent. Authored by thought leaders and bestselling authors in leadership and talent management who teach and consult globally, Agile Talent reveals how companies such as Apple, Uber, Airbnb, Google, IBM, and Bain Capital organize and manage new forms of talent in innovative ways. Supported by survey data and packed with tools and templates for applying these ideas, this book is the ultimate guide for winning the next war for talent.

" Agile Talent is an interesting read in this emerging business context where cloud sourcing (getting external talent) is now becoming a differentiated business strategy... a practical roadmap for leaders to create conditions for maximising engagement, performance and contribution of external talent." — Businessworld India

"This well-researched book will prove interesting not only to chief executives and HR leaders, but to the many people now operating in the gig economy who will hope that some of its key messages resonate with those who employ them." — Irish Times

"Readers will learn how to make a business case for hiring external talent, orient them to their organizations, offer them professional development, and optimize teamwork between them and permanent, full-time employees." — TD magazine (Association for Talent Development)

ADVANCE PRAISE for Agile Talent :

Todd M. Warner, former VP, Learning, BHP Billiton, and Founder, Like Minds Advisory—
" Agile Talent represents a whole new way for organizations to work across their value chain and optimize the performance of the people who work for (and with) them to reach new levels of productivity."

Omar Kader, Chairman and CEO, Paltech—
"This book presents a clear and effective description of how all businesses need to function in the future—or be left behind."

Susan J. Schmitt, Senior Vice President, Human Resources, Rockwell Automation—
"This book is relevant, practical, and immediately applicable to anyone reading it, whether you are a CEO, a chief HR officer, a leader at any level, or a shareholder."

Kevin Murphy, CEO, Driscoll's—
" Agile Talent allows for specialization and entrepreneurial spirit to flourish."

Shelley Seifert, Chief Administrative Officer, First Bank—
"Younger and Smallwood challenge every reader to break free from our typical tactics and instead think strategically and holistically about how to approach external staffing."

Kathleen Wilson-Thompson, Executive Vice President and Global Chief Human Resources Officer, Walgreens Boots Alliance—
" Agile Talent provides a rarely found treasure trove of experiences and practical solutions to create an agile workforce that meets an organization's particular needs."

Kirk Aubry, President and CEO, Savage—
"How do we get the full benefit of having the best people where and when we need them—even though they're not on our payroll? This book provides a roadmap for navigating to new and powerful workforce relationships."