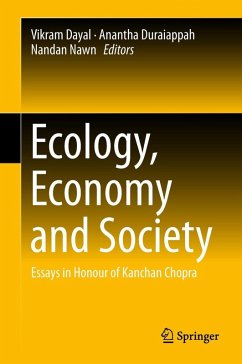 Andere Kunden interessierten sich
auch
für
The four sub-themes of the book reflect some of the important areas in the environment-development discourse - sustainability of development, institutions and environmental governance, environment and well-being, and ecosystem and conservation. Within each of the sub-themes, the policy and the practice as well as the macro and micro aspects are addressed. With contributions mainly from ecological economists and ecologists, the book's approach is interdisciplinary, both in spirit and content, reflecting the honoree's work, which went not just beyond the mainstream ideology of economics, but also the way she listened to ideas from disciplines like ecology and sociology. The volume also includes two reflective essays on academic life and works of Kanchan Chopra.
The book is a valuable resource for students, teachers, researchers, practitioners and policy makers in the areas of development economics, ecological economics, environmental economics and related disciplines such as conservation, development, ecology, economics, environment, governance, health, sociology and public policy.
---
Dieser Download kann aus rechtlichen Gründen nur mit Rechnungsadresse in A, B, BG, CY, CZ, D, DK, EW, E, FIN, F, GB, GR, HR, H, IRL, I, LT, L, LR, M, NL, PL, P, R, S, SLO, SK ausgeliefert werden.
Produktdetails
Verlag: Springer-Verlag GmbH
Erscheinungstermin: 30.07.2018
Englisch
ISBN-13: 9789811056758
Artikelnr.: 56792131
1. Introduction Life and Works of Kanchan Chopra About the Volume Vikram Dayal, Anantha Duraiappah and Nandan Nawn Section A: Sustainability of Development 2. The Sustainability of the Sustainable Development Goals Anantha Duraiappah (abstract included) 3. The role of Trans-disciplinary approach in Post2030 Development Agenda Pushpam Kumar (abstract included) 4. Mainstreaming Climate Sustainability in India: How will Jack and Jill climb the hill? Purnamita Dasgupta (abstract included) 5. Ecological Distribution Conflicts and the Vocabulary of Environmental Justice Joan Martinez-Alier (paper included) Section B: Institutions for Environmental Management 6. Industrialization and River Water Quality in India: Gains from Informal Regulation of Water Pollution Bishwanath Goldar (abstract included) 7. Collective Action: Penultimate Solution for Efficient Environmental Management M N Murty (abstract included) 8. Transaction Costs and Agricultural Productivity in Kathmandu Valley, Nepal Ram Chandra Bhattarai, Pranab Mukhopadhyay and E. Somanathan (abstract and paper included) 9. Institutions and Community Participation in the Management of Forest Ecosystems Bibhu Prasad Nayak (abstract included) Section C: Environment and Well-being 10. Population Ethics and Earth's Carrying Capacity Partha Dasgupta (abstract included) 11. Infectious diseases among households in India: occurrence, associations and implications Indrani Gupta and Samik Chowdhury (abstract included)
12. Spatial Analysis of Quality of Life in an Urban Context Preeti Kapuria (abstract included) Section D: Ecosystem and Conservation 13. The Millennium Ecosystem Assessment: Testing the Limits of Interdisciplinary and Multi-scale Science Walter V. Reid and Harold A. Mooney (abstract and paper included) 14. Conservation beyond protected areas Charles Perrings (abstract included) 15. Ecosystem services, state institutions and market integration in reducing poverty: Evidence from a remote Himalayan region Saudamini Das, Priya Shyamsundar and Mani Nepal (abstract included) Section E: Reflections on Contributions of Kanchan Chopra 16. Shaping the ISEE and INSEE Richard Norgaard