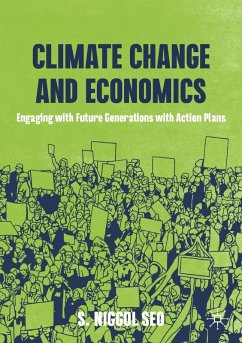 Andere Kunden interessierten sich
auch
für


Climate Change and Economics: Engaging with Future Generations with Action Plans aims to engage with young readers and offer action plans for activists. It is relevant to students interested in environmental economics and environmental science.


Produktdetails
Artikelnr. des Verlages: 978-3-030-66679-8
1st ed. 2021
Seitenzahl: 292
Erscheinungstermin: 30. März 2021
Englisch
Abmessung: 210mm x 148mm x 15mm
Gewicht: 386g
ISBN-13: 9783030666798
ISBN-10: 3030666794
Artikelnr.: 60673051
1. An Introduction to the First Course on Climate Change, Economy, and Life for Generation-Z.- 2. Farm Animals: A Story of Sheep and Goats in Sub-Sahara.- 3. Forests: A Tale of Amazon Rainforests and Congo River Forests.- 4. Monsoon: A Tale of Indian Water Cow and Goats in the Monsoon.- 5. Tropical Cyclones and Oceans: A Story of Cyclone Shelters in Bangladesh.- 6. Rice Yields: A Tale of Political Rice and Climate Change in Thailand.- 7. Grasslands: A Story of Pampas, Prairie, and Feeds for the Future.- 8. Energy: A Story of Three Gorges in China.- 9. Technologies: A Surprising Tale of a Greenhouse.- 10. Clouds: A Secret Tale of Cirrus Clouds.- 11. Polar Bears and Penguins in the World Poles.- 12. Bush Fires or Global Warming in Australia.- 13. Infectious Diseases and Climate Change.- 14. Negotiations: Climate Conferences.- 15. What the Future Holds for Generation-Z.