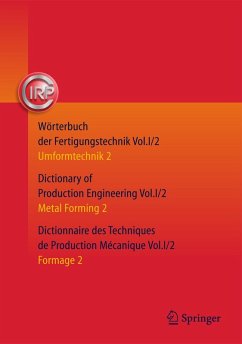 Produktdetails
Verlag: Springer, Berlin; Vieweg+Teubner
Artikelnr. des Verlages: 86373638
3. Aufl.
Erscheinungstermin: 14. September 2015
Deutsch, Englisch, Französisch
Abmessung: 249mm x 177mm x 32mm
Gewicht: 960g
ISBN-13: 9783662439616
ISBN-10: 3662439611
Artikelnr.: 41325663
Warmschmieden und Gesenkschmieden / Hot forging and Die forging / Forgeage à Chaud et Matrigage.- Kalt- und Halbwarmumformung / Cold and warm forging / Forgeage à Froid et à Tiède.- Biegen / Bending / Cintrage.- Tiefziehen und Streckziehen / Deep Drawing and Stretch Drawing / Emboutissage Profond et Emboutissage à Flan Bloqué.- Inkrementelle Umformung / Incremental Forming / Formage Incrémental.- Umformen mit Wirkmedien / Forming with Working Media / Formage par Action d'un Milieu Actif.- Umformung mittels Magnetfeldern / Forming with Magnetic Fields / Formage par Impulsion Magnétique.- Trennen durch Umformen / Cutting by Forming / Découpage par Formage.- Fügen durch Umformen / Joining by Forming / Assemblage par Formage.