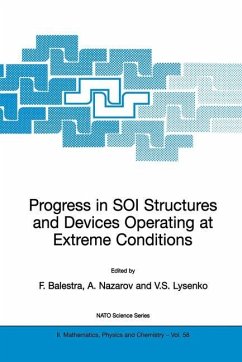 Produktdetails
NATO Science Series II Mathematics, Physics and Chemistry 58
Verlag: Springer Netherlands
Softcover reprint of the original 1st ed. 2002
Seitenzahl: 364
Erscheinungstermin: 30. April 2002
Englisch
Abmessung: 240mm x 160mm x 19mm
Gewicht: 1140g
ISBN-13: 9781402005763
ISBN-10: 1402005768
Artikelnr.: 22399961
Preface.Innovation in material technologies.Perspectives of SIMOX technology; M.J. Anc. MBE growth of the top layer in Si/YSZ/Si structure; V.G. Beshenkov, et al. SiCOI structures, Technology and characterization; C. Serre, et al. New SiC on insulator wafers based on the Smart-Cut® approach and their potential applications; J.P. Joly, et al. ELTRAN® (SOI-Epi Wafer®) Technology; T. Yonehara, K. Sakaguchi. Low dimension properties of nanostructures on ultra thin layers of silicon formed by oxidation of ion cut SOI wafers and electron lithography; V.P. Popov, et al.Reliability of SOI devices operating at harsh conditions.SOI for Harsh Environment Applications in the USA; C.A. Colinge. Performance and reliability of deep submicron SOI MOSFETs in a wide temperature range; F. Balestra. Strategies for high-temperature electronics: a Western European Perspective; C. Johnston, A. Crossley. Charge carrier injection and trapping in the buried oxides of SOI structures; A.N. Nazarov, et al. Cryogenic investigations of SIMOX buried oxide parameters; V.S. Lysenko, et al. Gate-All Around Technology for Harsh Environment Applications; J.P. Colinge. Low-Noise High-Temperature SOI Analog Circuits; V. Dessard, et al. Influence of gamma-radiation on short channel SOI-MOSFETs with thin SiO2 films; C. Claeys, et al. Radiation effects in SOI magnetic sensitive elements under different radiation conditions; A.D. Mokrushin, et al.Characterization of advanced SOI materials and devices.Similarity relation for I-V characteristics of FETs with different channel shape; V.N. Dobrovolsky, et al. Laser-recrystallized SOI layers for sensor applications at cryogenic temperatures; A. Druzhinin,et al. Characterization and modeling of advanced SOI materials and devices; F. Allibert, et al. Modeling and measurements of generation and recombination currents in thin-film SOI gated-diodes; T.E. Rudenko, V.I. Kilchytska. Defect creation mechanisms due to hot-carriers in 0.15 mu/m SIMOX MOSFETs; P. Dimitrakis, et al. Defects and their electronic properties in high-pressure-annealed SOI structure sliced by hydrogen; V.P. Popov, et al. DC and AC models of partially-depleted SOI MOSFETs in weak inversion; D. Tomaszewski, et al.Perspectives of SOI structures and devices.On scaling the thin film Si thickness of SOI substrates. A perspective on Wafer Bonding for Thin Film Devices; K.D. Hobart, et al. Oxidized porous silicon based SOI: untapped resources; V. Bondarenko, et al. Electron-hole pair reversed drift in SOI structure; V.N. Dobrovolksy, et al. A novel depleted semi-insulating silicon material for high frequency applications; M. Johansson, S. Bengtsson. Self-organizing growth of silicon dot- and wire-like microcrystals on isolated substrates; A.I. Klimovskaya, et al.Author Index.