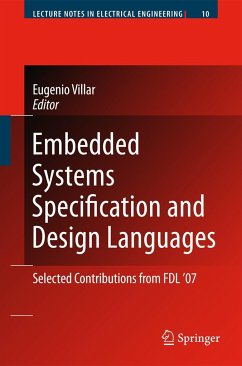 Andere Kunden interessierten sich
auch
für
---
FDL is the most important European and, probably, worldwide forum to present research results, to exchange experiences, and to learn about new trends in the application of specification and design languages and the associated design and modeling methods and tools for complex, heterogeneous HW/SW embedded systems. FDL 07 was the tenth of a series of successful events held all around Europe. FDL 07 was held in Barcelona, the capital city of Catalonia, Spain. The high number of submissions to the conference this year allowed the Program Committee to prepare a high quality conference program. Specification and Design Languages for Heterogeneous HW/SW Embedded Systems includes a selection of the most relevant contributions based on the review made by the program committee members and the quality of the contents of the presentation at the conference. In many cases, the authors have improved the original content with additional technical information. The papers cover the most important aspects in system modeling and specification, an essential area in Embedded Systems design.
The objective of Specification and Design Languages for Heterogeneous HW/SW Embedded Systems is to serve as a reference text for researchers and designers interested in the extension and improvement of the application of design and verification languages in the area of Embedded Systems.
Produktdetails
Lecture Notes in Electrical Engineering 10
Verlag: Springer Netherlands
Artikelnr. des Verlages: 12208937
2008
Seitenzahl: 275
Erscheinungstermin: Mai 2008
Englisch
Abmessung: 243mm x 166mm x 21mm
Gewicht: 581g
ISBN-13: 9781402082962
ISBN-10: 1402082967
Artikelnr.: 23460380
Part I: C/C++ Based System Design 1: How Different are Esterel and SystemC? By Jens Brandt and Klaus Schneider. 2: Timed Asynchronous Circuits Modeling and Validation using SystemC by Cédric Koch-Hofer and Marc Renaudin. 3: On Construction of Cycle Approximate Bus TLMs by Martin Radetzki and Rauf Salimi Khaligh. 4: Combinatorial Dependencies in Transaction Level Models by Robert Guenzel, Wolfgang Klingauf and James Aldis. 5: An Integrated SystemC Debugging Environment by Frank Rogin, Christian Genz, Rolf Drechsler, Steffen Rülke. 6: Measuring the Quality of a SystemC Testbench by using Code Coverage Techniques by Daniel Große, Hernan Peraza, Wolfgang Klingauf, Rolf Drechsler. 7: SystemC-based Simulation of the MICAS Architecture by Dragos Truscan, Kim Sandström, Johan Lilius, and Ivan Porres. Part II: Analog, Mixed-Signal, and Heterogeneous System Design 8: Heterogeneous Specification with HetSC and SystemC-AMS: Widening the support of MoCs in SystemC by F. Herrera and E. Villar.