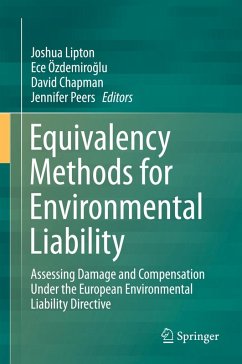 ---
Dieser Download kann aus rechtlichen Gründen nur mit Rechnungsadresse in A, B, BG, CY, CZ, D, DK, EW, E, FIN, F, GR, HR, H, IRL, I, LT, L, LR, M, NL, PL, P, R, S, SLO, SK ausgeliefert werden.
Produktdetails
Verlag: Springer-Verlag GmbH
Seitenzahl: 281
Erscheinungstermin: 12. Februar 2018
Englisch
ISBN-13: 9789048198122
Artikelnr.: 52937851
PART 1: Introduction, Legal Regime, and Methods.
1. Introduction: Environmental Liability Analysis in the European Union.
2. The Environmental Liability Directive: Legal Background and Requirements.
3. Development of a Toolkit for Performing Resource Equivalency Analysis.
4. Performing an Initial Evaluation.
5. Determining and Quantifying Damage.
6. Determining and Quantifying Remediation Benefits.
7. Scaling Complementary and Compensatory Remediation.
8. Monitoring and Reporting.
9. Economic Approaches to Environmental Compensation: Theories and Techniques.

PART 2: Case Studies.
10. Vistula River Crossing in Poland.
11. Ex Ante Road Development in Poland.
12. Bages-Berguedà (BABE) Forest Fire in Catalonia.
13. Water Abstraction from the River Itchen, Hampshire, UK.
14. Long-term Chemical Contamination of a Nearshore Waterway.
15. Population Impairment to Alpine Brown Trout.
16. Oil Pollution of a Nearshore Marine Habitat from Land-Based Tanks.
17. Bird Mortality Associated with Wind Turbines.