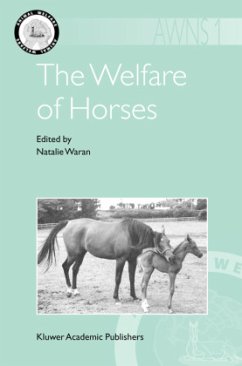 Andere Kunden interessierten sich
auch
für
Produktdetails
Animal Welfare Vol.1
Verlag: Springer Netherlands
2002
Seitenzahl: 248
Erscheinungstermin: 31. August 2002
Englisch
Abmessung: 252mm x 161mm x 15mm
Gewicht: 526g
ISBN-13: 9781402007668
ISBN-10: 1402007663
Artikelnr.: 21065258
1. Horse Behaviour: Evolution, Domestication and Feralisation; D. Goodwin.
2. Clinical Problems Associated with the Intensive Management of Performance Horses; R.A. Casey.
3. Nutrition and Welfare; N. Davidson, P. Harris.
4. Housing, Management and Welfare; D.S. Mills, A. Clarke.
5. Stereotype Behaviour in the Stabled Horse: Causes, Effects and Prevention Without; J. Cooper, P. McGreevy.
6. The Effects of Transportation on the Welfare of Horses; N. Waran, et al.
7. Training Methods and Horse Welfare; N. Waran, et al.
8. Welfare of the Racehorse during Exercise Training and Racing; D.L. Evans.
9. Specific Welfare Problems Associated with Working Horses; R.T. Wilson.
Index.
From the reviews

"I learned a great deal from reading this book. Granted, they were things I was exposed to while I was in veterinary school, but not concepts or areas of thought that I use on a daily basis as a veterinary surgeon, although I probably should. The subjects covered could be considered peripheral to clinical work, but welfare may equally be argued to be a primary tenet of our clinical care. ...The book would be of great use to veterinary surgeons, veterinary students, researchers and knowledgeable horse owners. ...This is not a lightweight book and consequently requires careful reading, but to do so will reward the reader with a much better understanding of what makes horses "tick" and how we have manipulated their behaviour and welfare largely to suit our needs." (Jessica Kidd in The Veterinary Record, November 2002)