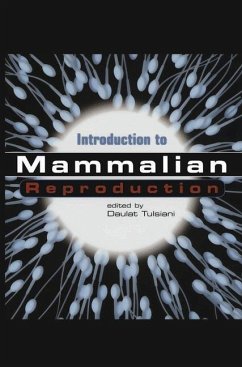 Andere Kunden interessierten sich
auch
für

formation and maturation of male gametes;
morphology and physiology of female gametes;
how the sperm meets the egg;
sperm-egg fusion, egg activation, and implantation of fertilized egg;
assisted reproduction and environmental chemicals that have an effect on formation and function of male and female gametes.
This book is for both researchers and students involved in reproductive biology.
Produktdetails
Verlag: Springer, Berlin
Softcover reprint of the original 1st ed. 2003
Seitenzahl: 420
Erscheinungstermin: 30. November 2002
Englisch
Abmessung: 235mm x 155mm x 22mm
Gewicht: 771g
ISBN-13: 9781402072833
ISBN-10: 140207283X
Artikelnr.: 20979877
List of Contributors. Preface. Acknowledgements. Part I: Male Gamete. 1. Mammalian Testes: Structure and Function; N. Ravidranath, et al. 2. The Sperm Acrosome: Formation and Contents; A. Abou-Haila, D.R.P. Tulsiani. 3. Ductus Epididymis; G.A. Cornwall. 4. The Testicular and Epididymal Luminal Fluid Microenvironment; C.M. Rodriguez, B.T. Hinton. 5. Sperm Motility: Patterns and Regulation; S. Vijayaraghvan. 6. Testicular and Epididymal Maturation of Mammalian Spermatozoa; K. Toshimori. 7. Glycosil Phosphatidyl Inositol (GPI) Anchored Molecules on Mammalian Spermatozoa; B.M.J. Pereira, et al. 8. Male Accessory Glands: Molecular Mechanisms of Development; C. Gupta. Part II: Female Gamete. 9. Formation and Structure of Mammalian Ovaries; Y. Araki. 10. The Ovarian Cycle; F.S. Khan-Dawood. 11. Estrogen-Associated Glycoproteins in Oviduct Secretions: Structure and Evidence for a Role in Fertilization; G. Killian. 12. Structure and Function of Mammalian Zonae Pellucidae; S.V. Prasad, et al. Part III: Early Events of Fertilization. 13. Transport of Spermatozoa in the Female Genital Tract; S.S. Suarez. 14. Capacitation: Signaling Pathways Involved in Sperm Acquisition of Fertilizing Capacity; V.A. Westbrook, et al. 15. Sperm-Egg Interaction and Exocytosis of Acrosomal Contents; D.R.P. Tulsiani, A. Abou-Haila. Part IV: Fusion of Gametes. 16. Gamete Membrane Interactions: The Cell-Cell Interactions between Sperm and Egg during Fertilization; J.P. Evans. 17. Activation of Mammalian Oocytes: Principles and Practice; L. Liu, et al. 18. Implantation: Lessons from a Primate Model; A.T. Fazleabas. Part V: Medical Implications. 19. Assisted Reproduction: Techniques and Participants; C.R. Loeser, et al. 20. The Reproductive Effects of Hormonally Active Environmental Agents; B.J. Danzo. Subject Index.