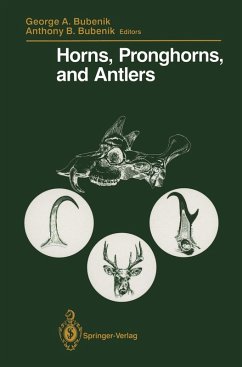 Andere Kunden interessierten sich
auch
für
---
Since the first drawings left on walls of ancient caves, human beings have been fascinated with that unique phenomenon of the animal kingdom, the presence of horns and antlers. From the mythical ''unicorn'' exercising the power over life and death to the perceived aphrodisiacal and other medical properties of rhinoceros horns and growing antlers, these conspicuous protuberances have had a significant place in the history of mankind. Part of that ancient interest in antlers and horns was due to their value as sym bols of masculinity; this interest persists today in trophy hunting, an honorable tradition carried on for centuries in many countries of the world. This book, which deals with evolution, morphology, physiology, and behavior, has not been devised as a comprehensive review of the subject of horns, prong horns, and antlers; rather, it is a series of chapters stimulating thoughts, discus sions, and initiation of new studies. As editors, we did not interfere with the content of articles nor with the opin ions and interpretations of our contributors, and we left them to decide whether to accept the suggestions of our reviewers. Despite the fact that various aspects of cranial appendages have been studied since the end of the eighteenth century, many controversial views still exist, as witnessed in various chapters of this book.
Produktdetails
Verlag: Springer / Springer, Berlin
Artikelnr. des Verlages: 978-1-4613-8968-2
Softcover reprint of the original 1st ed. 1990
Seitenzahl: 580
Erscheinungstermin: 12. November 2011
Englisch
Abmessung: 235mm x 155mm x 30mm
Gewicht: 867g
ISBN-13: 9781461389682
ISBN-10: 1461389682
Artikelnr.: 36116209
I. Evolution and Morphology.- 1. Epigenetical, Morphological, Physiological, and Behavioral Aspects of Evolution of Horns, Pronghorns, and Antlers.- 2. Correlation of Reproductive and Digestive Strategies in the Evolution of Cranial Appendages.- 3. Muntiacidae.- 4. Cervidae of Southeast Asia.- 5. Cranial Appendages of Giraffoidea.- 6. Evolution and Dispersal of African Bovidae.- II. Physiology, Genetics, and Behavior.- 7. The Pronghorn (Antilocapra americana).- 8. Neuroendocrine Regulation of the Antler Cycle.- 9. Of Antlers and Embryos.- 10. Antler Regeneration: Studies with Antler Removal, Axial Tomography, and Angiography.- 11. The Role of the Nervous System in the Growth of Antlers.- 12. Experimental Manipulation of the Neural Control of Antler Growth.- 13. Experimental Induction of Antler Growth.- 14. The Annual Antler Cycle of the European Roe Deer (Capreolus capreolus) in Relation to the Reproductive Cycle.- 15. Endocrine Mechanisms and Antler Cycles in Rusa Deer, Cervis (Rusa) timorensis.- 16. Nutrition and Antler Development.- 17. Social Status and Antler Development in Red Deer.- 18. Genetic Variability and Antler Development.- 19. The Antler as a Model in Biomedical Research.- References.- Index of Extant and Extinct Species of Pecora.- Index of General Terms.