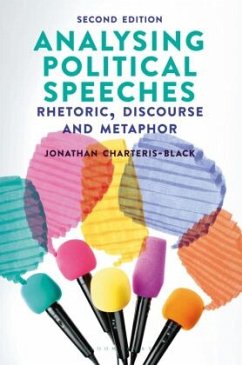 Andere Kunden interessierten sich
auch
für
Produktdetails
Artikelnr. des Verlages: 978-1-352-00396-3
2nd ed. 2018
Seitenzahl: 320
Erscheinungstermin: 31. August 2018
Englisch
Abmessung: 235mm x 155mm x 17mm
Gewicht: 487g
ISBN-13: 9781352003963
ISBN-10: 1352003961
Artikelnr.: 52441399
Preface.
PART I: TRADITIONAL APPROACHES TO RHETORIC, ORATORY AND DISCOURSE.
1. Classical Rhetoric: Artistic Proofs and Arrangement.
2. Classical Rhetoric
Style and Figures.
3. Cohesion and Coherence in Discourse.
4. Ad Hominem Arguments.
PART II: CRITICAL APPROACHES TO DISCOURSE.
5. Critical Analysis: Context and Persuasion.
6. Social Agency and Modality.
7. The Discourse
Historical Approach.
PART III: CRITICAL METAPHOR ANALYSIS.
8. Researching Metaphor in Public Communication.
9. Critical Metaphor Methodology.
10. Purposeful Metaphor and Social Cognition.
11. Rounding up: David Cameron's European Union Speech.
Comments on Exercises/Further Reading and References.
Glossary.