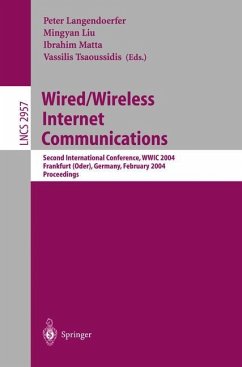 Produktdetails
Lecture Notes in Computer Science Vol.2957
Verlag: Springer, Berlin
2004.
Seitenzahl: 324
Erscheinungstermin: 29. Januar 2004
Englisch
Abmessung: 235mm x 155mm x 17mm
Gewicht: 500g
ISBN-13: 9783540209546
ISBN-10: 3540209549
Artikelnr.: 14780845
Session 1: Protocol Engineering and Energy Efficiency in Wireless Networks.- Distributed MAC Protocol to Improve Energy and Channel Efficiency in MANET.- CGGC: Cached Greedy Geocast.- Design of Energy Efficient Wireless Networks Using Dynamic Data Type Refinement Methodology.- Context-Aware Group Communication in Mobile Ad-Hoc Networks.- Session 2: Mobility Management and Mobile Devices.- An Empirical Wi-Fi Based Location Mechanism for Urban Search and Rescue Operations.- Mobility-Aware Rendezvous Point for Mobile Multicast Sources.- An Address Configuration and Confirmation Scheme for Seamless Mobility Support in IPv6 Network.- Session 3: Transport Layer and Congestion Control.- TCP Optimization through FEC, ARQ, and Transmission Power Tradeoffs.- Sliding Mode Congestion Control in Differentiated Service Communication Networks.- Application of Robust Fuzzy Adaptive Second-Order Sliding-Mode Control to Active Queue Management.- Graceful Degradation of Transport Layer in Mobile Internet.- Session 4: Architecture, Implementation, and Experimentation.- Implementing Ad Hoc to Terrestrial Network Gateways.- Connecting Wireless Sensornets with TCP/IP Networks.- Experimental Analysis of Heterogeneous Wireless Networks.- Session 5: Network and Protocol Modeling.- High-Level Behavioral SDL Model for the IEEE 802.15.3 MAC Protocol.- Performance of Phase Modulated Systems Using Fully Saturated Power Amplifiers.- On Connectivity in Ad Hoc Networks under Jamming Using Directional Antennas and Mobility.- The Ad Hoc On-Demand Distance Vector Protocol: An Analytical Model of the Route Acquisition Process.- Session 6: Wireless Network Scheduling and Analysis.- A Scheduling Algorithm for a QoS Based Satellite Network.- A Power-Allocation-Combined Scheduling Algorithm for CDMA-Based High-Rate Packet Data Systems.- Analyzing the Performance of Data Users in Packet Switched Wireless Systems with Prioritized Voice Traffic.- Session 7: Multimedia Distribution and Group Communication.- Adaptive Multimedia Streaming for Heterogeneous Networks.- A Scalable and Adaptive Key Management Protocol for Group Communication.- Smooth Fast Broadcasting (SFB) for Compressed Videos.- Session 8: Service Discovery.- Dynamic Management of UDDI Registries in a Wireless Environment of Web Services.- An Agent-Based Architecture for Service Discovery and Negotiation in Wireless Networks.