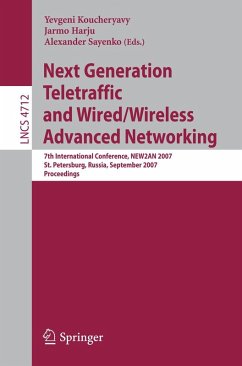 Produktdetails
Lecture Notes in Computer Science Vol.4712
Verlag: Springer, Berlin
Artikelnr. des Verlages: 12120567
Erscheinungstermin: 23. August 2007
Englisch
Abmessung: 239mm x 154mm x 29mm
Gewicht: 757g
ISBN-13: 9783540748328
ISBN-10: 3540748326
Artikelnr.: 23111734
Teletraffic I.- Effects of Spatial Aggregation on the Characteristics of Origin-Destination Pair Traffic in Funet.- Users Dimensioning and Traffic Modelling in Rural e-Health Services.- Empirical Observations of Traffic Patterns in Mobile and IP Telephony.- Teletraffic II.- On the Number of Losses in an MMPP Queue.- On-Line State Detection in Time-Varying Traffic Patterns.- The Drop-From-Front Strategy in AQM.- TCP Protocol in Wireless Systems.- TCP Congestion Control over 3G Communication Systems: An Experimental Evaluation of New Reno, BIC and Westwood+.- Cross-Layer Enhancement to TCP Slow-Start over Geostationary Bandwidth on Demand Satellite Networks.- TCP Performance over Cluster-Label-Based Routing Protocol for Mobile Ad Hoc Networks.- WiMAX.- An Analytic Model of IEEE 802.16e Sleep Mode Operation with Correlated Traffic.- Real Life Field Trial over a Pre-mobile WiMAX System with 4th Order Diversity.- On Evaluating a WiMAX Access Network for Isolated Research and Data Networks Using NS-2.- Performance Evaluation of the IEEE 802.16 ARQ Mechanism.- QoS Topics in Fixed Networks.- Evaluating Differentiated Quality of Service Parameters in Optical Packet Switching.- GESEQ: A Generic Security and QoS Model for Traffic Priorization over IPSec Site to Site Virtual Private Networks.- Routes Building Approach for Multicast Applications in Metro Ethernet Networks.- Wireless Networking I.- Performance Modelling and Evaluation of Wireless Multi-access Networks.- Analysis of a Cellular Network with User Redials and Automatic Handover Retrials.- Stochastic Optimization Algorithm Based Dynamic Resource Assignment for 3G Systems.- Adaptive Resource Reservation for Efficient Resource Utilization in the Wireless Multimedia Network.- Teletraffic III.- A Discrete-Time Queueing Model with a Batch Server Operating Under the Minimum Batch Size Rule.- Derivatives of Blocking Probabilities for Multi-service Loss Systems and Their Applications.- Rare Events of Gaussian Processes: A Performance Comparison Between Bridge Monte-Carlo and Importance Sampling.- AdHoc Networks I.- A Forwarding Spurring Protocol for Multihop Ad Hoc Networks (FURIES).- Direct Conversion Transceivers as a Promising Solution for Building Future Ad-Hoc Networks.- Location Tracking for Wireless Sensor Networks.- An Incentive-Based Forwarding Protocol for Mobile Ad Hoc Networks with Anonymous Packets.- Wireless Networking II.- Providing Seamless Mobility Using the FOCALE Autonomic Architecture.- Evaluation of Joint Admission Control and VoIP Codec Selection Policies in Generic Multirate Wireless Networks.- A Novel Inter-LMD Handoff Mechanism for Network-Based Localized Mobility Management.- AdHoc Networks II.- Improvement of Link Cache Performance in Dynamic Source Routing (DSR) Protocol by Using Active Packets.- tinyLUNAR: One-Byte Multihop Communications Through Hybrid Routing in Wireless Sensor Networks.- Wireless Topics.- On the Optimality and the Stability of Backoff Protocols.- Maximum Frame Size in Large Layer 2 Networks.- Analysis of Medium Access Delay and Packet Overflow Probability in IEEE 802.11 Networks.- EU Projects Experience.- Communications Challenges in the Celtic-BOSS Project.- NGN Topics.- Performance Analysis of the REAchability Protocol for IPv6 Multihoming.- Controlling Incoming Connections Using Certificates and Distributed Hash Tables.- Design and Implementation of an Open Source IMS Enabled Conferencing Architecture.