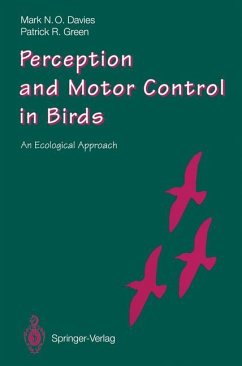 Andere Kunden interessierten sich
auch
für

narrow - just onegroup of animals - at the same time, this
book presents a new unified framework for understanding
perceptuomotor organization, stressing the importance of an
ecological perspective. Section I reviews recent research on
a variety of sensory and perceptual processes in birds,
which all involve subtle analyses of the relationships
between species' perceptual mechanisms and their ecology and
behaviour. Section II describes the variousresearch
approaches - behavioural, neurophysiological, anatomical and
comparative - all dealing with the common problem of
understanding how the activities of large numbers of muscles
are coordinated to generate adaptive behaviour. Section III
is concerned with a range of approaches to analyzing the
links between perceptual and motor processes, through
cybernetic modelling, neurophysiological analysis, and
behavioural methods.
Produktdetails
Verlag: Springer, Berlin
Softcover reprint of the original 1st ed. 1994
Seitenzahl: 384
Erscheinungstermin: 14. Dezember 2011
Englisch
Abmessung: 235mm x 155mm x 20mm
Gewicht: 581g
ISBN-13: 9783642758713
ISBN-10: 3642758711
Artikelnr.: 36115228
to Section I.- 1 Form and Function in the Optical Structure of Bird Eyes.- 1.1 Introduction.- 1.2 The Bases of Diversity in Avian Eye Structure.- 1.3 Quantitative Descriptions of Eye Structures and Their Properties.- 1.4 Interpretations of Diversity.- 1.4.1 Shape and Size of Eyes.- 1.4.2 The Optical Design of Eyes.- 1.5 The Role of the Iris.- 1.5.1 Pupil Size and Image Brightness.- 1.5.2 Pupil Size and Image Quality.- 1.5.3 Pupil Size and Depth of Field.- 1.6 Visual Fields.- 1.6.1 Monocular Fields.- 1.6.2 Binocular and Panoramic Fields.- 1.6.3 Visual Fields and Amphibious Habits.- 1.7 Concluding Remarks.- References.- 2 Functional Accommodation in Birds.- 2.1 The Power and Precision of Accommodation as a Distance Cue.- 2.2 A Technique to Measure Accommodation in Unrestrained, Alert Birds.- 2.3 Mechanisms of Accommodation in Terrestrial Birds.- 2.3.1 Speed of Accommodation.- 2.3.2 Coupled and Uncoupled Accommodation and the Convergence of Information.- 2.4 Visual Guidance of Pecking Behaviour.- 2.5 Lower Field Myopia: an Adaptation That "Keeps the Ground in Focus"?.- 2.6 The Role of Accommodation in Judging Distances.- References.- 3 Binocular Depth Perception.- 3.1 Introduction.- 3.2 What Exactly is Stereopsis?.- 3.2.1 Retinal Disparity and Stereopsis.- 3.2.2 Types of Stereopsis.- 3.3 Stereopsis in Birds.- 3.3.1 Neural Mechanisms for Local Stereopsis in Birds.- 3.3.2 Behavioural Tests of Stereopsis in Birds.- 3.4 Binocular Vision and the Oculomotor System in Birds.- 3.4.1 The Position of the Binocular Field.- 3.4.2 The Visual Trident in Birds.- 3.4.3 Binocular Fixation and Fusion.- 3.4.4 Vergence Eye Movements.- 3.4.5 Stereoscopic Limits Imposed Through the Oculomotor System.- 3.5 Role of Binocular Vision in the Guidance of Avian Behaviour.- 3.5.1 Guidance of the Peck Movement.- 3.5.2 Dependence of Behaviour on the Frame of Reference.- 3.6 Conclusions.- References.- 4 Sound Cues to Distance: The Perception of Range.- 4.1 Introduction.- 4.2 Why Range?.- 4.3 Ranging Cues.- 4.4 The Experimental Evidence for Ranging Ability.- 4.5 Mechanisms of Degradation Perception.- 4.6 Ranging and Honesty.- 4.7 Some Developments of Ranging Studies.- 4.7.1 Ranging as a Component of Other Signalling Behaviour.- 4.7.2 Resolution of Ranging.- 4.8 Conclusions.- References.- 5 Avian Orientation: Multiple Sensory Cues and the Advantage of Redundancy.- 5.1 Theoretical Considerations.- 5.2 Compass Mechanisms and Their Interrelation.- 5.2.1 The Magnetic Compass of Birds.- 5.2.2 The Interrelation Between Magnetic Compass and Sun Compass.- 5.2.3 Directional Orientation at Night.- 5.2.4 Integrating Directional Orientation.- 5.3 Mechanism for Determining the Home Direction.- 5.3.1 Navigation by Route-Specific Information.- 5.3.2 Site-Specific Information - the Navigational "Map".- 5.3.3 Different Strategies Supplement Each Other.- 5.4 Determining the Migratory Direction.- 5.4.1 Reference Systems for the Migratory Direction.- 5.4.2 The Interrelation Between Celestial Rotation and the Magnetic Field During Ontogeny.- 5.5 Conclusion.- References.- to Section II.- 6 Neuroembryology of Motor Behaviour in Birds.- 6.1 Introduction.- 6.2 The Environment Within the Egg.- 6.3 Embryonic Motor Behaviours.- 6.3.1 Type I Embryonic Motility.- 6.3.2 Type II and Type III Embryonic Motility.- 6.4 Role of Sensory Information During Ongoing Embryonic Behaviours.- 6.4.1 What Sensory Information Is Available?.- 6.4.2 How Is Sensory Information Used?.- 6.5 Role of Sensory Input at Transitions in Behaviour.- 6.6 Role of Prior Sensory Input in Development of Later Behaviours.- 6.7 Conclusions.- References.- 7 Pre- and Postnatal Development of Wing-Flapping and Flight in Birds: Embryological, Comparative and Evolutionary Perspectives.- 7.1 Introduction.- 7.2 Prenatal Development of Spontaneous Wing-Flapping.- 7.3 Neural Basis of Embryonic Behaviour.- 7.4 Effect of Spontaneous Embryonic Behaviour on Muscle and Joint Development.- 7.5 Naturally Occurring Motor Neuron Death.- 7.6 Co
"I cannot imagine a reader who will not find something completely new: some technique of which they have not heard, some recent discovery in a field with which they are relatively unfamiliar...even though each chapter provides its own useful entre into one of a wide range of research fields, it is their bringing together that provides the real inspiration." - IBIS