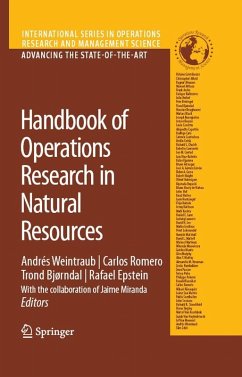 Andere Kunden interessierten sich
auch
für
---
Dieser Download kann aus rechtlichen Gründen nur mit Rechnungsadresse in A, B, BG, CY, CZ, D, DK, EW, E, FIN, F, GR, HR, H, IRL, I, LT, L, LR, M, NL, PL, P, R, S, SLO, SK ausgeliefert werden.
Produktdetails
Verlag: Springer-Verlag GmbH
Erscheinungstermin: 19.09.2007
Englisch
ISBN-13: 9780387718156
Artikelnr.: 37288332
Agriculture.- Importance of Whole-Farm Risk Management in Agriculture.- Dealing with Multiple Objectives in Agriculture.- Modeling Multifunctional Agroforestry Systems with Environmental Values: Dehesa in Spain and Woodland Ranches in California.- Environmental Criteria in Pig Diet Formulation with Multi-Objective Fractional Programming.- Modeling the Interactions Between Agriculture and the Environment.- MCDM Farm System Analysis for Public Management of Irrigated Agriculture.- Water Public Agencies Agreeing to A Covenant for Water Transfers: How to Arbitrate Price-Quantity Clauses.- Positive Mathematical Programming for Agricultural and Environmental Policy Analysis: Review and Practice.- Fisheries.- Fisheries Management.- Shared Fish Stocks and High Seas Issues.- Game Theoretic Applications to Fisheries.- Uncertainty in Bioeconomic Modelling.- Planning in Fisheries-Related Systems.- Capacity and Technical Efficiency Estimation in Fisheries: Parametric and Non-Parametric Techniques.- Studies in the Demand Structure for Fish and Seafood Products.- Forestry.- Models for Strategic Forest Management.- Tactical-Level Forest Management Models.- Harvest Operational Models in Forestry.- Log Merchandizing Model Used in Mechanical Harvesting.- Forest Transportation.- Optimization of Forest Wildlife Objectives.- Spatial Environmental Concerns.- Heuristics in Forest Planning.- Forestry Economics: Historical Background and Current Issues.- Multiple Criteria Decision-Making in Forest Planning: Recent Results and Current Challenges.- Forest Fire Management.- A Model for the Space-Time Spread of Pine Shoot Moth.- Adaptive Optimization of Forest Management in A Stochastic World.- Mining.- Application of Optimisation Techniques in Open Pit Mining.- Optimisation in Underground Mining.- Long- and Short-Term Production Scheduling at Lkab's Kiruna Mine.- An Integrated Approach to the Long-Term Planning Process in the Copper Mining Industry.