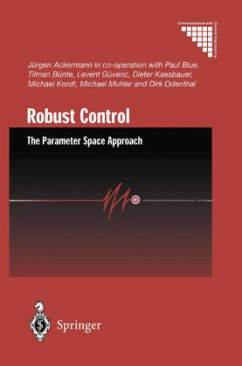 Produktdetails
Communications and Control Engineering
2. Aufl.
Seitenzahl: 500
Erscheinungstermin: 22. September 2012
Englisch
Abmessung: 235mm x 155mm x 26mm
Gewicht: 786g
ISBN-13: 9781447110996
ISBN-10: 1447110994
Artikelnr.: 39502708
Parametric Plants and Controllers: A Crane Example
Boundary Crossing and Parameter Space Approach
Eigenvalue Specifications
Boundary Mapping in Parameter Space
Frequency Domain Analysis and Design
Case Studies in Car Steering
Case Studies in Flight Control
Robustness Analysis by Value Sets
Values Sets for Non-linear Co-efficient Functions
The Stability Radius
Robustness of Sampled-Data Control Systems
A Polynominals and Polynominals Equations, Resultant Method
B Introduction to PARADISE
Bibliography
From the reviews of the second edition:
This is the second edition of the previously published text Robust Control which appeared in 1993. The new edition represents a total revision of the previous text, resulting in a book that is easily readable and well organized. A large number of real world examples and a step by step introduction of the material make the text easily accessible. The more than 300 figures and the many discussed applications give the book a very intuitive and graphics oriented flavor.
In summary, this book takes a refreshingly different look at the problem of robust control than most other texts. It provides an easy to follow coverage of the material and is largely self-contained. This book should be of significant interest to the automatic control community, and it is especially valuable for the practicing control engineer.
IEEE Transactions on Automatic Control 50 (2005) 1229 - 1230 (Reviewer: Peter Bauer)
"This monograph addresses the problem of robustcontrol ... . The text presents several interesting case studies that illustrate the presented methods ... . A large number of real world examples and a step by step introduction of the material make the text easily accessible. The more than 300 figures and the many discussed applications give the book a very intuitive and graphics oriented flavor. ... this book takes a refreshingly different look at the problem of robust control than most other texts." (Peter Bauer,
IEEE Transactions on Automatic Control, Vol. 50 (8), August, 2005)