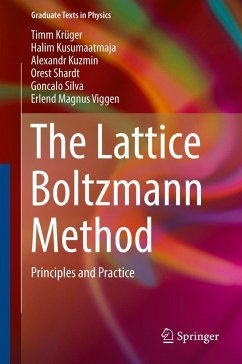 Produktdetails
Graduate Texts in Physics
Artikelnr. des Verlages: .978-3-319-44647-9, 978-3-319-44647-9
1st ed. 2017
Erscheinungstermin: 17. November 2016
Englisch
Abmessung: 244mm x 167mm x 53mm
Gewicht: 1243g
ISBN-13: 9783319446479
ISBN-10: 3319446479
Artikelnr.: 45382002
Part I Background: Basics of hydrodynamics and kinetic theory.- Numerical methods for fluids.- Part II Lattice Boltzmann fundamentals: The lattice Boltzmann equation.- Analysis of the lattice Boltzmann equation.- Boundary and initial conditions.- Forces.- Non-dimensionalisation and choice of simulation parameters.- Part III Lattice Boltzmann extensions, improvements, and details: Lattice-Boltzmann for advection-diffusion-problems.- Multiphase and multi-component flows.- MRT and TRT collision operators.- Boundary conditions for fluid-structure interaction.- Sound waves.- Part IV Numerical implementation of the lattice Boltzmann method: Implementation of LB Simulations.- Appendices.
"The aim of this book is to give a thorough description of the field and to provide researchers and graduate students with powerful tools so that they can immediately apply their knowledge to practical applications. … readers can find example codes showing how the lattice Boltzmann method can be implemented efficiently on a variety of hardware platforms such as clusters, multi-core processors, and graphics processing units. The rich information included in this volume is clearly presented and well structured." (Teodora-Liliana Rădulescu, zbMATH 1362.76007, 2017)