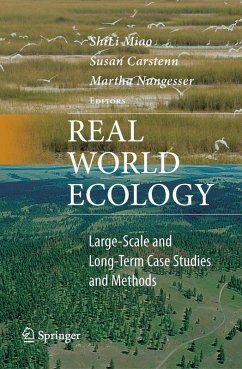 Geräte: PC

ohne Kopierschutz

Größe: 6.91MB
Andere Kunden interessierten sich
auch
für
* Lack of randomization, replication and independence * Multiple scales of spatial and temporal variability * Complex interactions and system feedbacks.
In real world ecology, standard replicated designs are often neither practical nor feasible for large-scale experiments, yet ecologists continue to cling to these same standard designs and related statistical analyses. Case studies that fully elucidate the currently available techniques for conducting large-scale unreplicated analyses are lacking.
Real World Ecology: Large-Scale and Long-Term Case Studies and Methods
is the first to focus on case studies to demonstrate how ecologists can investigate complex contemporary problems using new and powerful experimental approaches. This collection of case studies showcases innovative experimental designs, analytical options, and interpretation possibilities currently available to theoretical and applied ecologists, practitioners, and biostatisticians. By illustrating how scientists have answered pressing questions about ecosystem restoration, impact and recovery, global warming, conservation, modeling, and biological invasions, this book will broaden the acceptance and application of modern approaches by scientists and encourage further methodological development.
---
Dieser Download kann aus rechtlichen Gründen nur mit Rechnungsadresse in A, B, BG, CY, CZ, D, DK, EW, E, FIN, F, GR, HR, H, IRL, I, LT, L, LR, M, NL, PL, P, R, S, SLO, SK ausgeliefert werden.
From the reviews: "Real World Ecology begins by examining the limitations of many of the older ecological methods for interpreting large scale systems of complex spatial and temporal variability. The editors point out the variety of new techniques that have been proposed, with varying degrees of success. ... Overall there is a great deal of useful material in this book ... . it certainly ought to be in the libraries of all teaching and research groups on ecology." (Janet Sprent, Bulletin of the British Ecological Society, Vol. 41 (1), March, 2010)