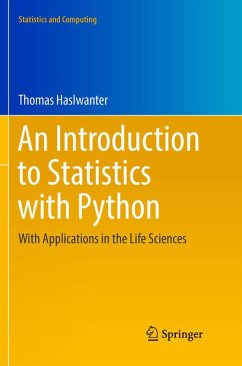 Produktdetails
Statistics and Computing
Artikelnr. des Verlages: .978-3-319-80323-4
Softcover reprint of the original 1st ed. 2016
Seitenzahl: 296
Erscheinungstermin: 30. Mai 2018
Englisch
Abmessung: 235mm x 159mm x 20mm
Gewicht: 456g
ISBN-13: 9783319803234
ISBN-10: 3319803239
Artikelnr.: 53185841
Part I: Python and Statistics.- Why Statistics?.- Python.- Data Input.- Display of Statistical Data.- Part II: Distributions and Hypothesis Tests.- Background.- Distributions of One Variable.- Hypothesis Tests.- Tests of Means of Numerical Data.- Tests on Categorical Data.- Analysis of Survival Times.- Part III: Statistical Modelling.- Linear Regression Models.- Multivariate Data Analysis.- Tests on Discrete Data.- Bayesian Statistics.- Solutions.- Glossary.- Index.
"This book is a timely addition designed to bridge the gap between statisticians/computer scientists and experimentalists (biologists, physicists, medical doctors) by focussing on solutions to practical problems … . the book also provides hands-on examples and exercises for a better understanding (for which the solutions are included at the end of the book). This approach makes the book appealing to a wide audience ranging from undergraduates in various subjects to established researchers looking for a focused set of answers." (Irina Ioana Mohorianu, zbMATH 1357.92001, 2017)