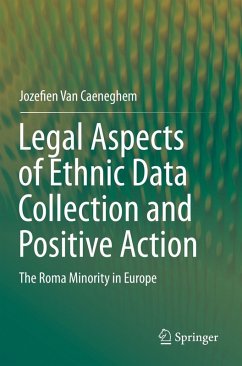 Part I focuses on ethnic data collection and explores the key rules and principles that govern it, the ways in which this equality tool could be used, and how potential obstacles might be overcome. It also identifies and addresses the specific challenges that arise when collecting ethnic data on the Roma minority in Europe. In turn, Part II explores positive action and the broad range of measures covered by the concept, before analysing the applicable international and European framework. It reviews the benefits and challenges of implementing positive action for Roma, identifies best practices, and gives special consideration to inter-cultural mediation in the advancement of Roma inclusion.

The book concludes with an overview of the main findings on both topics and by identifying three essential elements that must be in place, in addition to full respect for the applicable legal rules, in order to combat discrimination and achieve the inclusion of Roma in Europe by complementing existing anti-discrimination frameworks with the collection of ethnic data and the implementation of positive action schemes.


Produktdetails
Verlag: Springer / Springer, Berlin
Artikelnr. des Verlages: 978-3-030-23670-0
1st ed. 2019
Seitenzahl: 764
Erscheinungstermin: 20. September 2020
Englisch
Abmessung: 235mm x 155mm x 40mm
Gewicht: 1151g
ISBN-13: 9783030236700
ISBN-10: 3030236706
Artikelnr.: 60044385
FM.- Introduction.- Human Rights and the Roma: Key Concepts.- Part I: Ethnic Data Collection.- Ethnic Data Collection: Key Elements, Rules and Principles.- Ethnic Data Collection: Benefits, Risks, Data Sources and Methods.- Challenges to Collecting Ethnic Data on the Roma Minority in Europe.- Part II: Positive Action.- Positive Action and the Link with Ethnic Data.- International Framework on Positive Action.- European Framework on Positive Action.- Positive Action for the Roma Minority in Europe.- Positive Action for Roma in Four Key Areas.- Inter-Cultural Mediation to Enhance Roma Inclusion.- Final Conclusions and Recommendations.
---