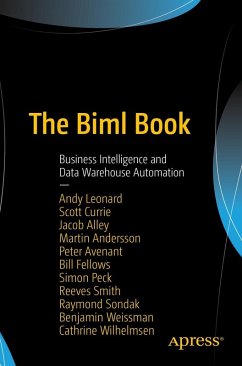 Learn Business Intelligence Markup Language (Biml) for automating much of the repetitive, manual labor involved in data integration. We teach you how to build frameworks and use advanced Biml features to get more out of SQL Server Integration Services (SSIS), Transact-SQL (T-SQL), and SQL Server Analysis Services (SSAS) than you ever thought possible.
The first part of the book starts with the basics-getting your development environment configured, Biml syntax, and scripting essentials.
Whether a beginner or a seasoned Biml expert, the next part of the book guides you through the process of using Biml to build a framework that captures both your design patterns and execution management. Design patterns are reusable code blocks that standardize the approach you use to perform certain types of data integration, logging, and other key data functions. Design patterns solve common problems encountered when developing data integration solutions. Because you do not have to build the code from scratch each time, design patterns improve your efficiency as a Biml developer.
In addition to leveraging design patterns in your framework, you will learn how to build a robust metadata store and how to package your framework into Biml bundles for deployment within your enterprise.
In the last part of the book, we teach you more advanced Biml features and capabilities, such as SSAS development, T-SQL recipes, documentation autogeneration, and Biml troubleshooting.
The Biml Book:
Provides practical and applicable examples
Teaches you how to use Biml to reduce development time while improving quality
Takes you through solutions to common data integration and BI challenges
What You'll Learn
Master the basics of Business Intelligence Markup Language (Biml)
Study patterns for automating SSIS package generation
Build a Biml Framework
Import and transform database schemas
Automate generation of scripts and projects
Who This Book Is For
BI developers wishing to quickly locate previously tested solutions, Microsoft BI specialists, those seeking more information about solution automation and code generation, and practitioners of Data Integration Lifecycle Management (DILM) in the DevOps enterprise
---
Dieser Download kann aus rechtlichen Gründen nur mit Rechnungsadresse in A, B, BG, CY, CZ, D, DK, EW, E, FIN, F, GR, HR, H, IRL, I, LT, L, LR, M, NL, PL, P, R, S, SLO, SK ausgeliefert werden.
Produktdetails
Verlag: Springer-Verlag GmbH
Seitenzahl: 484
Erscheinungstermin: 30. Oktober 2017
Englisch
ISBN-13: 9781484231357
Artikelnr.: 53063956
Es gelten unsere Allgemeinen Geschäftsbedingungen: www.buecher.de/agb
Impressum
www.buecher.de ist ein Shop der
buecher.de GmbH & Co. KG
Bürgermeister-Wegele-Str. 12,
86167 Augsburg
Amtsgericht Augsburg HRA 13309
Persönlich haftender Gesellschafter: buecher.de Verwaltungs GmbH
Amtsgericht Augsburg HRB 16890

Vertretungsberechtigte:
Günter Hilger, Geschäftsführer
Clemens Todd, Geschäftsführer

Sitz der Gesellschaft:Augsburg
Ust-IdNr. DE 204210010
---
Bitte wählen Sie Ihr Anliegen aus.