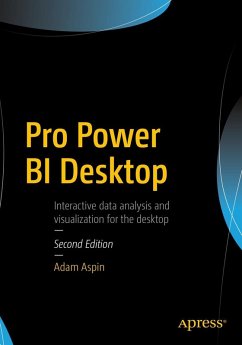 Andere Kunden interessierten sich
auch
für
You can take data from virtually any source and use it to produce stunning dashboards and compelling reports that will seize your audience's attention. Slice and dice the data with remarkable ease and then add metrics and KPIs to project the insights that create your competitive advantage. Make raw data into clear, accurate, and interactive information with Microsoft's free self-service business intelligence tool.
Pro Power BI Desktop shows you how to choose from a wide range of built-in and third-party visualization types so that your message is always enhanced. You'll be able to deliver those results on the PC, tablets, and smartphones, as well as share results via the cloud. This book helps you save time by preparing the underlying data correctly without needing an IT department to prepare it for you.
What You'll Learn
Deliver attention-grabbing information, turning data into insight
Mash up data from multiple sources into a cleansed and coherent data model
Create dashboards that help in monitoring key performance indicators of your business
Build interdependent charts, maps, and tables to deliver visually stunning information
Share business intelligence in the cloud without involving IT
Deliver visually stunning and interactive charts, maps, and tables
Find new insights as you chop and tweak your data as never before
Adapt delivery to mobile devices such as phones and tablets
Who This Book Is For
Everyone from CEOs and Business Intelligence developers to power users and IT managers
---
Dieser Download kann aus rechtlichen Gründen nur mit Rechnungsadresse in A, B, BG, CY, CZ, D, DK, EW, E, FIN, F, GR, HR, H, IRL, I, LT, L, LR, M, NL, PL, P, R, S, SLO, SK ausgeliefert werden.
Produktdetails
Verlag: Springer-Verlag GmbH
Seitenzahl: 761
Erscheinungstermin: 8. Dezember 2017
Englisch
ISBN-13: 9781484232101
Artikelnr.: 52944193
Introduction 1. Introduction to Power BI Desktop 2. Discovering and Loading File- Based Data with Power BI Desktop 3. Loading Data from Databases and Data Warehouses 4. Direct Query and Connect Live 5. Loading Data from the Web and the Cloud 6. Dealing with Datasets 7. Data Transformation 8. Data Mashup 9. Structuring, Managing and Parameterizing Queries 10. Creating a Data Model 11. Extending the Data Model with Calculated Columns 12. Adding Measures to the Data Model 13. Analyzing Data over Time 14. Table Visuals 15. Matrix and Card Visuals 16. Charts in Power BI Desktop 17. Formatting Charts in Power BI Desktop 18. Other Types of Visuals 19. Maps in Power BI Desktop 20. Filtering Data 21. Using Slicers 22. Enhancing Dashboards 23. PowerBI.com 24. Appendix A: Sample Data
Es gelten unsere Allgemeinen Geschäftsbedingungen: www.buecher.de/agb
Impressum
www.buecher.de ist ein Shop der
buecher.de GmbH & Co. KG
Bürgermeister-Wegele-Str. 12,
86167 Augsburg
Amtsgericht Augsburg HRA 13309
Persönlich haftender Gesellschafter: buecher.de Verwaltungs GmbH
Amtsgericht Augsburg HRB 16890

Vertretungsberechtigte:
Günter Hilger, Geschäftsführer
Clemens Todd, Geschäftsführer

Sitz der Gesellschaft:Augsburg
Ust-IdNr. DE 204210010
---
Bitte wählen Sie Ihr Anliegen aus.