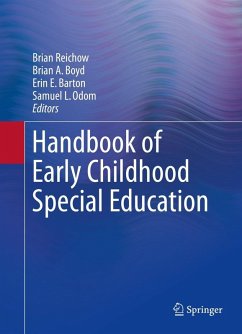 Andere Kunden interessierten sich
auch
für
Topics featured in the Handbook include:
Family-centered practices in early childhood intervention.
The application of Response to Intervention (RtI) in young children with identified disabilities.
Motor skills acquisition for young children with disabilities.
Implementing evidence-based practices in ECSE classrooms.
· Cultural, ethnic, and linguistic implications for ECSE.
The Handbook of Early Childhood Special Education is a must-have resource for researchers, professors, upper-level undergraduate and graduate students, clinicians, and practitioners across such disciplines as child and school psychology, early childhood education, clinical social work, speech and physical therapy, developmental psychology, behavior therapy, and public health.
---
Dieser Download kann aus rechtlichen Gründen nur mit Rechnungsadresse in A, B, BG, CY, CZ, D, DK, EW, E, FIN, F, GB, GR, HR, H, IRL, I, LT, L, LR, M, NL, PL, P, R, S, SLO, SK ausgeliefert werden.
Produktdetails
Verlag: Springer-Verlag GmbH
Erscheinungstermin: 21.06.2016
Englisch
ISBN-13: 9783319284927
Artikelnr.: 46936760
PART 1: Historical Context and Foundations.- Chapter 1. A History of Early Childhood Education.- Chapter 2. The Role of Theory in Early Childhood Special Education.- Chapter 3. Family-Centered Practices in Early Childhood Special Education.- Chapter 4. Taking Stock and Moving Forward: Implementing Quality Early Childhood Inclusive Practices.- Chapter 5. Birth to Three: Early Intervention.- Chapter 6. Assessment in Early Childhood Special Education.- Chapter 7. Evidence-Based Practice in the Context of Early Childhood Special Education.- PART 2: Evidence-Based Practices in ECSE.- Chapter 8. Developing Literacy and Language Competence: Preschool Children Who are At-Risk or Have Disabilities.- Chapter 9. Understanding Science Technology Engineering Arts and Mathematics (STEAM).- Chapter 10. The Application of Response to Intervention to Young Children with Identified Disabilities.- Chapter 11. A "Consumer Reports" Like Review of the Empirical Literature Specific to Preschool Children's Peer Related Social Skills.- Chapter 12. Promoting Communication Development in Young Children With or At-Risk for Disabilities.- Chapter 13. Motor Skills Acquisition for Young Children with Disabilities.- Chapter 14. Supporting the Implementation of Tiered Models of Behavior Support in Early Childhood Settings.- Chapter 15. Critical Issues and Promising Practices for Teaching Play to Young Children with Disabilities.- PART 3: Maximizing Current and Future Child Outcomes with EBP.- Chapter 16. Personnel Preparation in EC Intervention.- Chapter 17. Implementing Evidence-based Practices in ECSE Classroom Settings.- Chapter 18. Using Modifications and Accommodations to Enhance Learning of Young Children with Disabilities.- Chapter 19. The Role of Speech-Language Pathologists in Providing Early Childhood Special Education.- Chapter 20. Occupational Therapy in Early Intervention and Early Childhood Special Education.- Chapter 21. Role of Physical Therapy Within the Context of Early