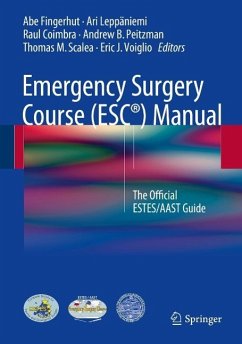 ---
Dieser Download kann aus rechtlichen Gründen nur mit Rechnungsadresse in A, B, BG, CY, CZ, D, DK, EW, E, FIN, F, GB, GR, HR, H, IRL, I, LT, L, LR, M, NL, PL, P, R, S, SLO, SK ausgeliefert werden.
Produktdetails
Verlag: Springer-Verlag GmbH
Erscheinungstermin: 01.03.2016
Englisch
ISBN-13: 9783319213385
Artikelnr.: 44879038
_Generalities: Intra-operative Strategy: Open Surgical Approach.- Leading Symptoms.- Management options: non-operative versus operative management.- Pathophysiology.- Post-operative complications.- When To Operate After Failed Non-operative Management. Techniques: Laparoscopy.- Laparotomy (Open surgery).- Lower gastrointestinal endoscopy.- Percutaneous interventions.- Upper gastrointestinal endoscopy. By organ: Appendix.- Biliary tree.- Colon & rectum.- Diaphragmatic Problems for the Emergency Surgeon.- Esophagus.- Female genital tract.- Liver.- Pancreas.- Proctology.- Small bowel.- Soft tissue (necrotizing).- Stomach and duodenum.- Surgical emergencies related to abdominal wall hernia.- Thorax.
"This is a compilation of pearls for emergency surgeons from the European Society of Trauma and Emergency Surgery and the American Association for the Surgery of Trauma. ... Senior trainees, fellows, and staff performing emergency surgery or providing anesthetic support are an appropriate audience. ... Each chapter includes a reference list featuring important papers." (David J. Dries, Doody's Book Reviews, June, 2016)