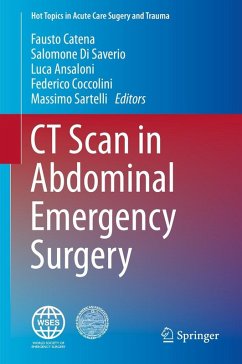 To this end, each chapter includes a description of a specific acute abdominal disorder. In addition to the clinical presentation and the diagnosis and management guidelines, there is a special focus on imaging studies with clear and concise descriptions, high-quality images and the evolution grading scale to aid interpretation.
This easy-to-read book is an ideal source of practical information for acute care surgeons, radiologists and for all the members of the emergency team.
---
Dieser Download kann aus rechtlichen Gründen nur mit Rechnungsadresse in A, B, BG, CY, CZ, D, DK, EW, E, FIN, F, GB, GR, HR, H, IRL, I, LT, L, LR, M, NL, PL, P, R, S, SLO, SK ausgeliefert werden.
Produktdetails
Verlag: Springer-Verlag GmbH
Erscheinungstermin: 26.06.2018
Englisch
ISBN-13: 9783319483474
Artikelnr.: 53041782
Preface.- 1 Liver Trauma.- 2 Pelvic Trauma.- 3 Spleen Trauma.- 4 Duodeno Pancreatic Trauma.- 5 GI Trauma.- 6 GU Trauma.- 7 Acute cholecystitis.- 8 Acute appendicitis and Meckel diverticula.- 9 Acute diverticulitis.- 10 Complicated peptic ulcer.- 11 Small bowel ischemia.- 12 Acute colon cancer.- 13 ASBO Colon volvulus.- 14 Acute pancreatitis.- 15 AAA and visceral aneuryrsm.- 16 Pelvic inflammatory disease.
"The book is well-written, clearly laid out and the illustrations are of good quality and reasonably comprehensive ... this is a nicely produced and written book that I am happy to recommend to junior surgeons and radiologists in training as an easy-to-read primer, and also to more experienced radiologists who may be unfamiliar with the evolving changes in clinical care." (Daniel Boxer, RAD Magazine, April, 2019) "This volume in the Hot Topics in Acute Care Surgery and Trauma series reviews the evolving role of the CT scan in decision making for abdominal surgical emergencies. ... Senior trainees and practitioners providing acute surgical services are an appropriate audience for this book ... . Chapters combine imaging findings with indicated operative procedures, helping readers match test results with clinical interventions. Another attractive feature is the use of multi color tables that highlight clinical data, injury grading scales and clinical strategies." (David J. Dries, Doody's Book Reviews, October, 2018)