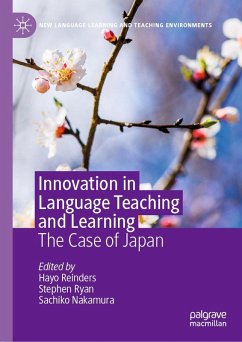 Produktdetails
New Language Learning and Teaching Environments
Artikelnr. des Verlages: 978-3-030-12566-0
1st ed. 2019
Erscheinungstermin: 10. Mai 2019
Englisch
Abmessung: 216mm x 154mm x 25mm
Gewicht: 536g
ISBN-13: 9783030125660
ISBN-10: 3030125661
Artikelnr.: 54873879
Chapter 1. The Scope of Innovation in Japanese Language Education; Hayo Reinders, Sachiko Nakamura, and Stephen Ryan.- Chapter 2. English in Japan in an era of global uncertainty; Philip Seargeant.- Chapter 3. CLIL in comparison with PPP: A 'revolution' in ELT by competency-based language education; Makoto Ikeda.- Chapter 4. Innovations in elementary classrooms: Integrating the teaching of English, history, and peace linguistics; Noriko Ishihara, Terumi Orihashi, and Zachary Clark.- Chapter 5. Inviting children's views for designing digital game tasks; Yuko Goto Butler.- Chapter 6. Learning across generations: A small-scale initiative; Stephen Ryan and Kay Irie.- Chapter 7. It's Your Turn: EFL Teaching and Learning with Tabletop Games; James York, Jonathan deHaan, and Peter Hourdequin.- Chapter 8. What Does "Teaching English as a Lingua Franca" Mean? Insights from University ELF Instructors' Voices; Ayako Suzuki.- Chapter 9. Developing a Foreign Language Geragogy: Teaching Innovations for Older Learners; Danya Ramírez-Gómez.- Chapter 10. Self-Access Learning and Advising: Promoting Language Learner Autonomy Beyond the Classroom; Jo Mynard.- Chapter 11. An Insider's View: Launching a University Program; Kay Irie.- Chapter 12. Innovating with the "The Collaborative Social" in Japan; Tim Murphey.- Chapter 13. An Innovative Approach to In-service Teacher Training for Teaching English at Japanese Public Elementary Schools; Maiko Ikeda, Hiroyuki Imai, and Osamu Takeuchi.- Chapter 14. Innovation in Japan: Looking to the Future; Stephen Ryan, Sachiko Nakamura, and Hayo Reinders.