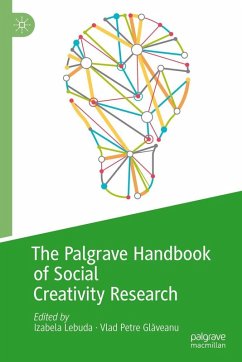 Andere Kunden interessierten sich
auch
für
The authors collectively offer a rigorous examination of the methodological and empirical issues and techniques involved in studying social creativity. They examine the phenomenon as a form of communication and interaction within collaborative relationships; contending that creativity happens not within a vacuum but instead from a nexus of personal, social and contextual influences.
This comprehensive work is organized in three parts, focusing first on the various methodological approaches applicable to the social in creativity studies. It secondly turns to empirical findings and approaches relating to the social nature of creativity. In the book's final part, the authors offer reflections on the state of social research into creativity, pinpointing areas requiring further methodological scrutiny and empirical verification, and areas that may inspire further theoretical or applied work. Combining classic ideas with cutting-edge, emerging methods, this work provides a vital methodological 'toolbox' for investigators within social creativity.
---
Dieser Download kann aus rechtlichen Gründen nur mit Rechnungsadresse in A, B, BG, CY, CZ, D, DK, EW, E, FIN, F, GB, GR, HR, H, IRL, I, LT, L, LR, M, NL, PL, P, R, S, SLO, SK ausgeliefert werden.
Produktdetails
Verlag: Springer-Verlag GmbH
Erscheinungstermin: 30.10.2018
Englisch
ISBN-13: 9783319954981
Artikelnr.: 54459909
1. Re/searching the Social in Creativity, Past, Present and Future: An Introduction to the Palgrave Handbook of Social Creativity Research; Izabela Lebuda, Vlad Petre Glaveanu.- Part I Methodological approaches to the social in creativity studies.- 2. The Sociocultural Context of Exceptional Creativity: Historiometric Methods; Dean Keith Simonton.- 3. Assessing Creativity with the Consensual Assessment Technique; John Baer, James C. Kaufman.- 4. An Introduction to Social Network Analysis for Creativity Research; Alexander S. McKay.- 5. Those days when people are creative: Diary methods in creativity research; Marta Czerwonka.- 6. Imaginative play, socio-emotional competence, and sociometric status in preschool children: Common methodological problems and new directions in research; Dorota Maria Jankowska, Iwona Omelanczuk.- 7. Climate for creativity: How to measure it in parent - child relationships?; Joanna Maria Kwasniewska.- 8. Life Positioning Analysis: Sociality, Materiality, and Creativity in the Lives of Carl Rogers and B. F. Skinner; Jack Martin.- 9. The dynamic display of social creativity: Developing the method of serial reproduction; Brady Wagoner.- 10. Microgenetic analysis and creativity: analyzing psychological change processes; Mônica Souza Neves-Pereira.- 11. Studying creativity as a social process: The use of subjective cameras; Vlad Petre Glaveanu.- Part II Empirical approaches to the social in creativity studies.- 12. The Sociocultural Context of Exceptional Creativity: Historiometric Studies; Dean Keith Simonton.- 13. (Social) Identity and Creativity in Virtual Settings: Review of Processes and Research Agenda; Jérôme Guegan, Todd Lubart, Julie Collange.- 14. The Role of Structure and Instruction on Creative Idea Evaluation and Selection; Roni Reiter-Palmon, Victoria Kennel, Triparna de Vreede, G. J. de Vreede.- 15. How do you manage evaluation? Attentive and affective constituents of creative performance under perceived frustration or success; Sergio Agnoli Laura Franchin, Enrico Rubaltelli, Giovanni Emanuele Corazza.- 16. Divergent and Convergent Collaborative Creativity; Paul B. Paulus, Lauren E. Coursey, Jared Kenworthy.- 17. The plasticity of natural concepts and creativity; Jerzy Trzebinski, Agnieszka Wolowicz.- 18. Lost in translation again: Concepts about creativity among Japanese and Polish prospective teachers; Aleksandra Gajda.- 19. Nomination of Domestic and Overseas Creative Celebrities: The German Style and the Factors behind it; Min Tang, Markus Moser.- 20. The Paul Gauguin Syndrome - A Great Life Change; Piotr K. Oles.- 21. Changing one's foodway: Creativity as repositioning; Fabienne Gfeller.- 22. Behind the scenes: How to research creative processes in multidisciplinary groups; Ingunn Johanne Ness.- 23. Creative Culture Analysis: A way to understand how an environment is (or isn't) favorable to creative ideas; Asdrúbal Borges Formiga Sobrinho.- Part III. Reflections on social research into creativity.- 24. Evaluation of Creativity is Always Local; Robert J. Sternberg.- 25. Creating Social Creativity Integrative Transdisciplinarity and the Epistemology of Complexity; Alfonso Montuori.- 26. Creativity as dissent and resistance: Transformative approach premised on social justice agenda; Anna Stetsenko.- 27. Engineering moral autonomy: Creativity and innovation in the age of artificial intelligence; Daniel T. Gruner, Mihaly Csikszentmihalyi.- 28. Life in the Cyber-Physical Society: the Need for Organic Creativity; Giovanni Emanuele Corazza.- 29. From Static to Dynamic: Toward a Socio-Dynamic Perspective on Creativity in Classrooms; Ronald A. Beghetto.- 30. Classroom Creative Climate: From a Static to a Dynamic Perspective; Maciej Karwowski.- 31. Is Creativity Compatible with Educational Accountability? Promise and Pitfalls of Using Assessment to Monitor and Enhance a Complex Construct; Jonathan Plucker, Rasis Alanazi.- 32. A creative peer-to-peer methodology; Lene Tanggaard Pedersen, Charl