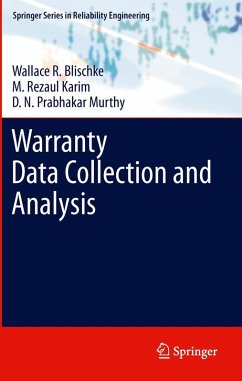 Andere Kunden interessierten sich
auch
für

Warranty Data Collection and Analysis will be of interest to researchers (engineers and statisticians) and practitioners (engineers, applied statisticians, and managers) involved with product warranty and reliability. It is also suitable for use as a reference text for graduate-level reliability programs in engineering, applied statistics, operations research, and management.

Produktdetails
Springer Series in Reliability Engineering
Repr. d. Ausg. v. 2011
Seitenzahl: 616
Erscheinungstermin: 27. November 2013
Englisch
Abmessung: 235mm x 155mm x 32mm
Gewicht: 920g
ISBN-13: 9781447127024
ISBN-10: 1447127021
Artikelnr.: 39301591
1. An Overview.- 2. Product Warranty.- 3. Reliability.- 4. Warranty Claims Data.- 5. Supplementary Warranty Data.- 6. Cost Models for One-Dimensional Warranties.- 7. Cost Models for Two-Dimensional Warranties.- 8. Preliminary Data Analysis.- 9. Basic Statistical Inference.- 10. Additional Statistical Techniques.- 11. Nonparametric Approach to the Analysis of 1-D Warranty Data.- 12. Parametric Approach to the Analysis of 1-D Warranty Data.- 13. Complex Models for Parametric Analysis of 1-D Warranty Data.- 14. Analysis of 2-D Warranty Data.- 15. Use of Warranty Data for Improving Current Products and Operations.- 16. Role of Warranty Data in New Product Development.- 17. Case Study 1: Analysis of Air Conditioner Claims Data.- 18. Case Study 2: Analysis of Automobile Components Warranty Claims Data.
From the reviews:
"This book, consisting of eighteen chapters in six parts, presents a detailed study of problems associated with warranty data collection and analysis. ... Throughout this well-written book a large number of references are provided which point the reader to the necessary detailed academic bibliography on each topic, making this very interesting book an useful handbook and essential tool for anyone interested in the collection and analysis of warranty data." (Efstratios Rappos, Zentralblatt MATH, Vol. 1226, 2012)