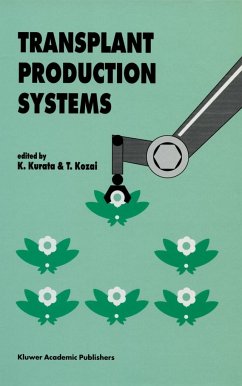 The application of engineering techniques to modern micropropagation techniques and plant production means that many tasks can be automated, especially physical manipulation and close control of the microenvironment.
This volume provides overviews of the main con-cepts -- plug seedling production, micropropagation, robotization, model development, measurement and environmental control -- with an emphasis on practical considerations. Examples are drawn from flower, vegetable and forest tree species to show how disciplines such as robotics and image analysis have a part to play in plant production.

Produktdetails
Verlag: Springer / Springer Netherlands
Artikelnr. des Verlages: 978-0-7923-1797-5
1992.
Seitenzahl: 335
Erscheinungstermin: Juni 1992
Englisch
Abmessung: 240mm x 160mm
Gewicht: 780g
ISBN-13: 9780792317975
ISBN-10: 0792317971
Artikelnr.: 24480749
Preface; K. Kurata, T. Kozai. 1. Propagation and Transplant Production Technology of New Floral Crops; M.S. Roh, R.H. Lawson. 2. Low-Temperature Storage of Bedding-Plant Plugs; R.D. Heins, N. Lange, T.F. Wallace Jr. 3. Present State of Transplant Production Practices in Japanese Horticultural Industry; T. Ito. 4. Automation-Culture-Environment Based Systems Analysis of Transplant Production; K.C. Ting, G.A. Giacomelli. 5. Issues in Robotic System Design for Transplant Production Systems; W. Simonton. 6. Measurement and Control in Transplant Production Systems; Y. Hashimoto, H. Nonami. 7. Perspective of Micropropagation Industry; I.Y.E. Chu. 8. Mass Propagation of Strawberry and New Alternatives for some Horticultural Crops; Ph. Boxus. 9. Micropropagation of Forest Trees; J. Aitken-Christie, M. Connett. 10. In Vitro Mass Propagation of Rice; T. Hirosawa. 11. Comparisons of Different Plant Production Methods for Forest Trees; M.I. Menzies, J.T. Arnott. 12. Towards a Model of Mineral Nutrition In Vitro; R.R. Williams. 13. Environmental and Hormonal Effects in Micropropagation; P.E. Read. 14. The In Vitro Environment and its Control in Micropropagation; T. Kozai, K. Fujiwara, M. Hayashi, J. Aitken-Christie. 15. Robotics and Image Analysis Applied to Micropropagation; F.R. Brown. 16. Automated Micropropagation and the Application of a Laser Beam for Cutting; D.P. Holdgate, E.A. Zandvoort. 17. Transplant Production Robots in Japan; K. Kurata. Subject Index.