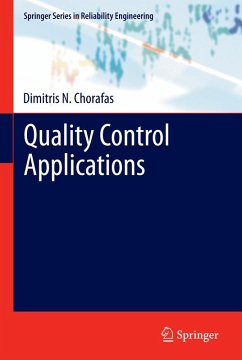 Andere Kunden interessierten sich
auch
für
Quality Control Applications provides guidance and valuable insight into quality control policies; their methods, their implementation, constant observation and associated technical audits.

What has previously been a mostly mathematical topic is translated here for engineers concerned with the practical implementation of quality control. Once the fundamentals of quality control are established, Quality Control Applications goes on to develop this knowledge and explain how to apply it in the most effective way. Techniques are described and supported using relevant, real-life, case studies to provide detail and clarity for those without a mathematical background. Among the many practical examples, two case studies dramatize the importance of quality assurance: A shot-by-shot analysis of the errors made in the Fukushima Daiichi nuclear disaster; and the engineering failure with new technology due to the absence of quality control in an alternative energy project.

This clear and comprehensive approach makes Quality Control Applications an essential reference for those studying engineering as well industry professionals involved in quality control across product and system design.


From the reviews: "Various methods and tools are described for improving and maintaining the quality and reliability of engineering structures and processes. The mathematical topics are arranged for engineers concerned with the practical implementation of quality control and tools for ensuring high reliability. ... For readers, also without a mathematical background, the book provides the principles and basic methods of quality control and reliability assurance, where many practical examples are given." (Kurt Marti, Zentralblatt MATH, Vol. 1252, 2012)
From the book reviews:

"Written at the level of an advanced undergraduate, practicing engineer, or an academic with no background in the area, the book provides considerable introductory material with numerous examples describing the basics of quality control and what is meant by service quality and reliability. ... This book would be well suited to self-study by anyone needing a basic but rigorous introduction to the principles of quality control and its applications." (IEEE Control Systems Magazine, October, 2013)

"Various methods and tools are described for improving and maintaining the quality and reliability of engineering structures and processes. The mathematical topics are arranged for engineers concerned with the practical implementation of quality control and tools for ensuring high reliability. ... For readers, also without a mathematical background, the book provides the principles and basic methods of quality control and reliability assurance, where many practical examples are given." (Kurt Marti, Zentralblatt MATH, Vol. 1252, 2012)