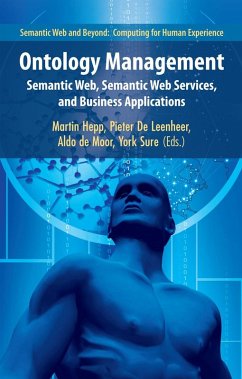 Andere Kunden interessierten sich
auch
für

This volume describes relevant tasks, practical and theoretical challenges, limitations and methodologies, plus available software tools. The editors discuss integrating the conceptual and technical dimensions with a business view on using ontologies, by stressing the cost dimension of ontology engineering and by providing guidance on how up-to-date tooling helps to build, maintain, and use ontologies. Also included is a one-stop reference on all aspects of managing ontological data and best practices on ontology management for a number of application domains.
Ontology Management is designed as a reference or secondary text for researchers and advanced-level students interested in the Semantic Web, Semantic Web Services (SWS)and Web Services, information systems, data and knowledge engineering, ontologies, or other aspects of semantic systems. Practitioners in industry will find this work invaluable as well.
Foreword by Professor Dieter Fensel, DERI, University of Innsbruck.
Produktdetails
Semantic Web and Beyond Vol.7
Verlag: Springer, Berlin
Softcover reprint of hardcover 1st ed. 2008
Seitenzahl: 316
Erscheinungstermin: 23. November 2010
Englisch
Abmessung: 235mm x 155mm x 17mm
Gewicht: 480g
ISBN-13: 9781441943491
ISBN-10: 1441943498
Artikelnr.: 32110127
Overview.- Ontologies: State of the Art, Business Potential, and Grand Challenges.- Infrastructure.- Engineering and Customizing Ontologies.- Ontology Management Infrastructures.- Ontology Reasoning with Large Data Repositories.- Evolution, Alignment, and the Business Perspective.- Ontology Evolution.- Ontology Alignments.- The Business View: Ontology Engineering Costs.- Experiences.- Ontology Management in e-Banking Applications.- Ontology-Based Knowledge Management in Automotive Engineering Scenarios.- Ontologising Competencies in an Interorganisational Setting.