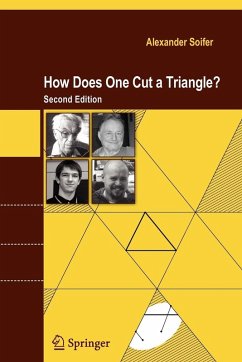 Andere Kunden interessierten sich
auch
für
How Does One Cut a Triangle? demonstrates how different areas of mathematics can be juxtaposed in the solution of a given problem. The author employs geometry, algebra, trigonometry, linear algebra, and rings to develop a miniature model of mathematical research.


Produktdetails
Verlag: Springer, Berlin
Artikelnr. des Verlages: 12085866
2nd ed. 2009
Seitenzahl: 174
Erscheinungstermin: 10. September 2009
Englisch
Abmessung: 235mm x 159mm x 23mm
Gewicht: 320g
ISBN-13: 9780387746500
ISBN-10: 0387746501
Artikelnr.: 23120515
Forewords.- Preface.- Part I: The Original Book.- Pool Table, Irrational Numbers, and Integral Independence.- How does One Cut a Triangle? I.- Excursions in Algebra.- How Does One Cut a Triangle? II.- Excursion in Trigonometry.- Is There Anything Beyond the Solution?.- Pursuit of the Best Result.- Convex Figures and the Function S(F).- Faul Erdos: Our Joint Problems.- Convex Figures and Erdos' Function.- Part II: Developments of the Subsequent 20 Years.- An Alternative Proof of the Grand Problem II.- Miklos Lasckovich on Cutting Triangles.- Soifer's $50 Problem and Mitya Karabash.- Conway-Soifer's Cover-Up.- Appendices.- References.- Notation.-Index.
"In mathematics, and especially in geometry, there is an abundance of topics that are accessible without much previous knowledge. They present the exploring mind with opportunities to rise to that challenge, and to experience the joy of discovery. How Does One Cut a Triangle? is an excellent guide to this aspect of mathematics, apt to bring pleasure to anybody willing to devote a few hours to follow its adventures among solved and unsolved questions."

(Branko Grünbaum)
From the reviews of the second edition:

"In the second edition of an engagingly written book ... addressed to bright high school students and undergraduates, whose contributions are very nicely incorporated into the narrative, the author presents problems belonging to discrete and combinatorial geometry." (Victor V. Pambuccian, Zentralblatt MATH, Vol. 1180, 2010)

"How does one cut a triangle? is a charming little book intended for that most rare of readers: one with little or no knowledge of mathematics above the high school level ... . For such a reader, this book constitutes an opportunity to learn a number of mathematical tools and problem-solving techniques. ... overall there is much in this book to commend it to both expert and novice ... ." (Michael Weiss, Mathematical Reviews, Issue 2011 c)