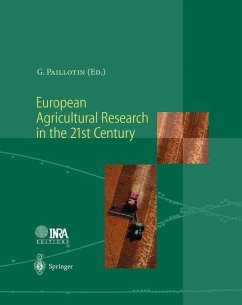 Andere Kunden interessierten sich
auch
für
Produktdetails
Verlag: Springer, Berlin
1998
Seitenzahl: 344
Erscheinungstermin: 20. Juli 1998
Englisch
Abmessung: 248mm x 198mm x 23mm
Gewicht: 823g
ISBN-13: 9783540644149
ISBN-10: 3540644148
Artikelnr.: 09194061
The New International Economic Context for European Agricultural Research.
Trends in Food Consumption in the European Union: Towards a Euro Diet?.
Consumer Choices: Tastes, Preferences, Constraints.
Effects of Media Discourse and Marketing.
Influence of Media and Marketing.
The Components of Quality.
The Strategy of the Food Industry.
Quality from a Consumer's Perspective.
Application of Biotechnology in the Food Industry.
The Role of Public Authorities at the National and International Level.
Food Choice and Health.
How Functional Foods in the Diet Contribute to Health.
Food Safety.
Water Management for Agriculture.
Soil Management and Agriculture.
Man and Biodiversity.
The Genetic Control of Plant Parasites: "Un plat de résistance".
Objectives and Challenges in Improving Biological Material for Animal Breeding.
Integrated Agriculture.
Improvements in Production Systems.
Non
Food Production: Economic, Environmental and Land Use Aspects.
Non
Food Production: Technological and Scientific Bottlenecks, The Role of Bioenergy in Europe's Energy Strategies.
Forest and Agroforestry.
Trends in Fisheries and Aquaculture Production in Europe.
The Diversity of Rural Space and its Typologies.
Agriculture at the Local and Regional Level.
Amenities in Rural Areas: Responding to a New Social Demand.
Lessons from a Macro
Historical Analysis: The Future of European Agricultural Research.
Agricultural Research and Technical Change in Agriculture: Lessons from Microeconomic Studies.
The Agro
Food Industry and Innovation.
Agricultural Research in France. A Useful Tool in Effective, Pervasive Agriculture.
First Panel Discussion: Scientific and Industrial Partnerships.
Second Panel Discussion: Future Relations Between Agricultural Research and Agricultural Extension Services.
Why are Public Organisations Needed for Agronomic Research?.
Third Panel Discussion: Scientific Expertise and Public Decision.
Scientific Appraisals: The Organisation and Responsibility of Experts.
European Agricultural Research, World Food Situation and Development. Agricultural Research after the World Food Summit.
European Agricultural Research, World Food Situation and Development.
Europe and Agricultural Research for Development.
Closing Speech.