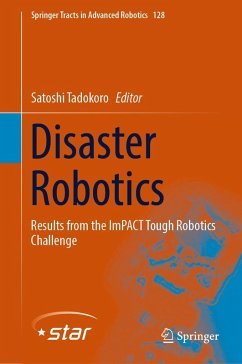 Andere Kunden interessierten sich
auch
für


cyber rescue canines, which are digitally empowered rescue dogs;

serpent-like robots for searching debris;

serpent-like robots for plant/infrastructure inspection;

UAVs for gathering information on large areas struck by disaster;

legged robots for plant/infrastructure inspection in risky places; and

construction robots for recovery tasks that require both power and precision.

The book offers a valuable source of information for researchers, engineers and practitioners in safety, security and rescue robotics, disaster robotics, and plant and infrastructure maintenance. It will also appeal to a wider demographic, including students and academics, as it highlights application scenarios and the total concept for each robot in various scientific and technical contexts.
In addition to a wealth of figures and photos that explain these robots and systems, as well as experimental data, the book includes a comprehensive list of published papers from this project for readers to refer to. Lastly, an external website offers video footage and updated information from the International Rescue System Institute.


Produktdetails
Springer Tracts in Advanced Robotics .128
Artikelnr. des Verlages: 978-3-030-05320-8
1st ed. 2019
Erscheinungstermin: März 2019
Englisch
Abmessung: 241mm x 161mm x 32mm
Gewicht: 1040g
ISBN-13: 9783030053208
ISBN-10: 3030053202
Artikelnr.: 54446437