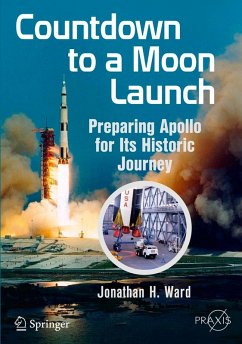 Andere Kunden interessierten sich
auch
für


Countdown to a Moon Launch provides an in-depth look at the carefully choreographed workflow for an Apollo mission at KSC. Using the Apollo 11 mission as an example, readers will learn what went on day by day to transform partially completed stages and crates of parts into a ready-to-fly Saturn V. Firsthand accounts of launch pad accidents, near misses, suspected sabotage, and last-minute changes to hardware are told by more than 70 NASA employees and its contractors. A companion to Rocket Ranch , it includes many diagrams and photographs, some never before published, to illustrate all aspects of the process. NASA's groundbreaking use of computers for testing and advanced management techniques are also covered in detail.

This book will demystify the question of how NASA could build and launch Apollo missions using 1960s technology. You'll discover that there was no magic involved - just an abundance of discipline, willpower, and creativity.

Produktdetails
Springer Praxis Books
Artikelnr. des Verlages: 978-3-319-17791-5
1st ed. 2015
Erscheinungstermin: 14. August 2015
Englisch
Abmessung: 240mm x 168mm x 24mm
Gewicht: 842g
ISBN-13: 9783319177915
ISBN-10: 3319177915
Artikelnr.: 42419627
Introduction.- Controlling Complexity.- Requirements, Tests, and Computerization.- The MSOB and the Spacecraft Processing Flow.- The LM Processing Flow-L Minus 181 Days.- The Space Vehicle Processing Flow in the VAB-L Minus 181 Days.- The Processing Flow at the Launch Pad-L Minus 57 Days.- Countdown Demonstration Test-L Minus 19 Days.- Launch Countdown-T Minus 130 Hours.- Plus Time and Near Misses.- Epilogue-Would It Actually Work?.
---
"This is a painstakingly researched and compiled book, with nearly 400 pages of finely detailed narrative plus appendices, covering the process of preparing, assembling and testing Apollo Moon rockets-boosters, command/service modules and lunar modules-at the Kennedy Space Center. ... it is an enjoyable one. This carefully researched and lovingly written book merits a space on the bookshelf of any Apollo aficionado ... ." (Rod Pyle, Quest Magazine, Vol. 23 (4), 2016)

"This book is organized into eleven chapters, each rich with original photographs, project schedules, flowcharts, and direct quotations from personal interviews with NASA employees. ... It is a great read for space history and aerospace engineering enthusiasts, and finally gives a voice to those 'nobodies' who helped Apollo reach the Moon." (Lisa Westwood, Quest Magazine, Vol. 23 (4), 2016)

"This book covers launch preparations for Apollo launches ... . This is a fine, fun read with lots of information, especially about coordination and testing. ... This book is recommended for anyone with an interest in space and the American space program, but it also contains a wealth of information that could be of interest and use for engineering students and those interested in organizational systems and processes." (Jeffrey Putnam, Computing Reviews, December, 2015)