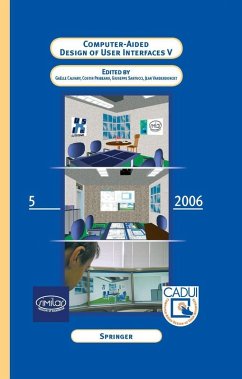 Andere Kunden interessierten sich
auch
für
---
Dieser Download kann aus rechtlichen Gründen nur mit Rechnungsadresse in A, B, BG, CY, CZ, D, DK, EW, E, FIN, F, GB, GR, HR, H, IRL, I, LT, L, LR, M, NL, PL, P, R, S, SLO, SK ausgeliefert werden.
Produktdetails
Verlag: Springer-Verlag GmbH
Erscheinungstermin: 05.10.2007
Englisch
ISBN-13: 9781402058202
Artikelnr.: 37354764
From the Table of Contents: Keynote Paper.-1. Generating User Interfaces from Conceptual Models: A Model-Transformation Based Approach, Ó. Pastor.- Multimodal User Interfaces 2. Towards Object Oriented, UIML-based Interface Descriptions for Mobile Devices, R. Schaefer and S. Bleul.- 3. Towards a System of Patterns for the Design of Multimodal Interfaces, G. Godet-Bar, S. Dupuy-Chessa, and L. Nigay.- 4. Design Options for Multimodal Web Applications, A. Stanciulescu and J. Vanderdonckt.- 5. A Generic Approach for Pen-based User Interface Development, S. Macé and E. Anquetil.- Virtual and Mixed Reality User Interfaces.- 6. Participatory Design Meets Mixed Reality Design Models: Implementation Based on a Formal Instrumentation of an Informal Design Approach, E. Dubois, G. Gauffre, C. Bach, and P. Salembier.- 7. A Method for Developing 3D User Interfaces of Information Systems, J.M. González Calleros, J. Vanderdonckt, and J. Muñoz Arteaga.- 8. GestAction3D: A Platform for Studying Displacements and Deformations of 3D Objects Using Hands, D. Lingrand, Ph. Renevier, A.-M. Pinna-Déry, X. Cremaschi,S. Lion, J.-G. Rouel, D. Jeanne, Ph. Cuisinaud, and J. Soula.- User Interfaces for Multi-Device Environments. -9. Designing and Developing Multi-user, Multi-device Web Interfaces, F. Paternò and I. Santos. -10. A System to Support Publishing, Editing, and Creating Web Content for Various Devices, M.M. Silva and E. Furtado.- 11. Transformational Consistency, K. Richter.- 12. Rapid Prototyping of Distributed User Interfaces, J.P. Molina Massó, J. Vanderdonckt, P. González López, A. Fernández-Caballero, and M.D. LozanoPérez.- 13. The Comets Inspector: Manipulating Multiple User Interface Representations Simultaneously, A. Demeure, G. Calvary, J. Coutaz, and J. Vanderdonckt.- User Interface Layout in Multi-Device Environments. -14. A Generic Approach for Multi-device User Interface Rendering with UIML, K. Luyten, K. Thys, J. Vermeulen, and K. Coninx.- 15. Device Independent Layout and Style Editing Using Multi-level Style Sheets, W. Dees.- 16. Automatic Interface Generation through Interaction, Users, and Devices Modeling, E. Bertini, G. Santucci, and A. Cali.- User Interface Design Support.- 17. The Meta Sketch Editor: A Reflexive Modeling Editor, L. Nóbrega, N.J. Nunes, and H. Coelho.- 18. A Hybrid Tool for User Interface Modeling and Prototyping, H. Trætteberg.- 19. Towards a Support of User Interface Design by Composition Rules, S. Lepreux and J. Vanderdonckt.- 20. IdealXML: An Interaction Design Tool - a Task-based Approach to User Interface Design, F. Montero and V. López-Jaquero.- 21. Integrating Model-based and Task-based Approaches to User Interface Generation, S. España, I. Pederiva, and J.I. Panach.- User Interface Usability Evaluation.- 22. Automated Repair Tool for Usability and Accessibility of Web Sites, A. Jasselette, M. Keita, M. Noirhomme-Fraiture, F. Randolet, J. Vanderdonckt, Ch. Van Brussel, and D. Grolaux.- 23. Automating Guidelines Inspection: From Web Site Specification to Deployment, J. Xiong, M. Diouf, Ch. Farenc, and M. Winckler.- Remote Web Usability Evaluation Exploiting Multimodal Information on User Behavior, F. Paterno, A. Piruzza, and C. Santoro.