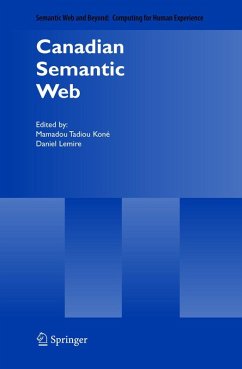 Andere Kunden interessierten sich
auch
für

Canadian Semantic Web contains the proceedings of the Canadian Semantic Web Working Symposium (CSWWS) 2006, the first major event in Canada on the theme of semantic Web. This event is the initiative of the Canadian Semantic Web Interest Group (SWIG) which gathers researchers supported by the Canadian Society for the Computational Studies of Intelligence(CSCSI). This text covers a variety of well known topics of interest to practitioners in industry and research scientists. The range of topics includes languages, tools and methodologies for the semantic Web, semantic Web-based ontology management and engineering, semantic Web services, practical applications of the semantic Web techniques, artificial intelligence methods and tools for the semantic Web, software agents on the semantic Web, visualization and modeling of the semantic Web. The goal of this book is to provide a state-of-the-art review of the research as well as to introduce topics of interest to experts.Mamadou Tadiou Koné is an Assistant Professor in computer science at Université Laval, Québec, Canada. Daniel Lemire is Professor at Télé-université, Université du Québec à Montréal (UQÀM), Canada.
Produktdetails
Semantic Web and Beyond 2
Softcover reprint of hardcover 1st ed. 2006
Seitenzahl: 244
Erscheinungstermin: 11. Februar 2011
Englisch
Abmessung: 235mm x 155mm x 13mm
Gewicht: 381g
ISBN-13: 9781441940049
ISBN-10: 1441940049
Artikelnr.: 32110443
Keynote session.- Service-Oriented Computing: Multiagent Foundation, Robust Applications, and Research Agenda.- Technical session: Applications I.- A Semantic Web Mediation Architecture.- Applying and Inferring Fuzzy Trust in Semantic Web Social Networks.- A Trust Model for Sharing Ratings of Information Providers on the Semantic Web.- Technical session: Applications II.- A Distributed Agent System upon Semantic Web Technologies to Provide Biological Data.- Fulfilling the Needs of a Metadata Creator and Analyst- An Investigation of RDF Browsing and Visualization Tools.- A Rule-based Approach for Semantic Annotation Evolution in the CoSWEM System.- Technical session: Ontologies I.- Integrating Ontologies by means of Semantic Partitioning.- Toward the Identification and Elimination of Semantic Conflicts for the Integration of RuleML-based Ontologies.- Incorporating Multiple Ontologies into the IEEE Learning Object Metadata Standard.- Ontoligent Interactive Query Tool.- Technical session: Ontologies II.- DatalogDL: Datalog Rules Parameterized by Description Logics.- Resolution Based Explanations for Reasoning in the Description Logic ALC.- Completion Rules for Uncertainty Reasoning with the Description Logic ALC.