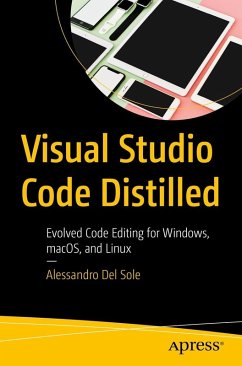 Andere Kunden interessierten sich
auch
für
Visual Studio Code is an open source and cross-platform development tool that focuses on code editing across a variety of development scenarios, including web, mobile, and cloud development. Visual Studio Code Distilled teaches you how to be immediately productive with Visual Studio Code, from the basics to some of the more complex topics. You will learn how to work on individual code files, complete projects, and come away with an understanding of advanced code-editing features that will help you focus on productivity, and source code collaboration with Git.
What You'll Learn
Comprehend Visual Studio Code in a way that is not just theory or a list of features, but an approach driven by developer tasks and needs
Understand integrated support for team collaboration with Git for executing and debugging code, and the many ways you can extend and customize VS Code
Debug code on multiple platforms though real-world guidance, such as working under corporate networks
Expand your coding intelligence from web to mobile to the cloud, and even artificial intelligence
Acquire valuable tips, tricks, and suggestions from hard-earned, real-world experience to be more productive
Who This Book Is For
All developers (including JavaScript, Java, NodeJS), not just those with a Microsoft background, who will benefit from learning and using VS code as a cross-platform and cross-language tool.
---
Dieser Download kann aus rechtlichen Gründen nur mit Rechnungsadresse in A, B, BG, CY, CZ, D, DK, EW, E, FIN, F, GR, HR, H, IRL, I, LT, L, LR, M, NL, PL, P, R, S, SLO, SK ausgeliefert werden.
Produktdetails
Verlag: Springer-Verlag GmbH
Seitenzahl: 215
Erscheinungstermin: 29. November 2018
Englisch
ISBN-13: 9781484242247
Artikelnr.: 54662880
 Introducing Visual Studio CodeGoal: this chapter will introduce Visual Studio Code as a development tool from Microsoft, discussing its open source and cross-platform nature, its goals and most typical usage scenarios, explaining how it works on Windows, macOS and Linux distributions.2.      Getting to know the WorkspaceGoal: this chapter will explain the VS Code workspace, its menus, commands, toolbars, shortcuts and areas in the user interface the developer must know to get familiar with the environment.3.      Language support and code editing featuresGoal: this chapter will explain what languages are supported out of the box and which are instead supported through extensibility and, more important, it will cover all the powerful code editing features that represent the core of this tool. This is definitely the most important chapter.4.      Working with files and foldersGoal: this chapter explains how to edit individual files and how to work with folders that contain multiple files (or projects) in a structured way, making the natural step forward after learning about code editing features.5.      Customizing VS CodeGoal: this chapter will talk about customizing preferences in the VS Code environment, such as themes, keyboard shortcuts, the code editor, network preferences and much more.6.      Installing and managing extensionsGoal: this chapter will explain how to extend Visual Studio Code by installing extensions such as additional languages, debuggers, code snippets and team collaboration tools. It will also provide a list of must-have extensions and it will explain how to customize extension settings. 7.      Source control with GitGoal: this chapter will discuss source control with Git, which is about how people in the development team can collaborate over the code. Common features such as committing changes, merging and branching will be discussed. As a bonus, this chapter will also discuss how to leverage the integrated Git support against Microsoft's Visual Studio Team Services via an extension.8.      Automating tasksGoal: this chapter will discuss how to execute external tools and commands from VS Code (such as compilers), explaining how this goes beyond being a simple code editor.9.      Running and debugging codeGoal: this is another key chapter, as it explains how powerful VS Code is as a development tool and not as a simple code editor, due to its capability of running and debugging code with integrated debuggers for .NET Core and Node.JS and with debuggers that can be installed as extensions. Examples of running and debugging code will be provided for .NET Core (C#), Node.JS (Java) and Docker.