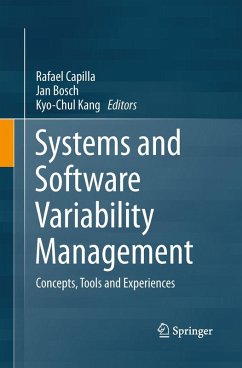 Andere Kunden interessierten sich
auch
für


Many books on product line engineering either introduce specific product line techniques or include brief summaries of industrial cases. From these sources, it is difficult to gain a comprehensive understanding of the various dimensions and aspects of software variability. Here the editors address this gap by providing a comprehensive reference on the notion of variability modeling in the context of software product line engineering, presenting an overview of the techniques proposed for variability modeling and giving a detailed perspective on software variability management.

Their book is organized in four main parts, which guide the reader through the various aspects and dimensions of software variability. Part 1 which is mostly written by the editors themselves introduces the major topics related to software variability modeling, thus providing a multi-faceted view of both technological and management issues. Next, part 2 of the book comprises four separate chapters dedicated to research and commercial tools. Part 3 then continues with the most practical viewpoint of the book presenting three different industry cases on how variability is managed in real industry projects. Finally, part 4 concludes the book and encompasses six different chapters on emerging research topics in software variability like e.g. service-oriented or dynamic software product lines, or variability and aspect orientation.

Each chapter briefly summarizes "What you will learn in this chapter", so both expert and novice readers can easily locate the topics dealt with. Overall, the book captures the current state of the art and best practices, and indicates important open research challenges as well as possible pitfalls. Thus it serves as a reference for researchers and practitioners in software variability management, allowing them to develop the next set of solutions, techniques and methods in this complicated and yet fascinating field of software engineering.