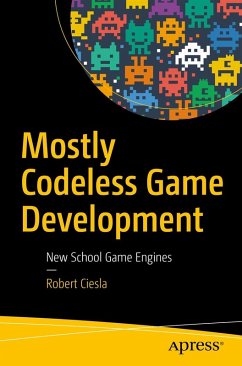 Andere Kunden interessierten sich
auch
für

Have you dreamed of making your own video game? Do you find the prospect daunting? Fear not. A new generation of game engines has emerged. Lengthy and complicated feats of programming are largely a thing of the past in video game development. To create commercially viable games you simply need the right tools, many of which are discussed in this book. A gigantic software team isn't a must-have prerequisite for success. The one-person operation is back.
What You Will Learn

Master the concepts and jargon used in game creation for the beginner

Find the best game development suite for your project

Make the most out of related graphics and audio production software

Discover video game marketing essentials

Who This Book Is For
People with no programming experience who desire a career in the video game industry as producers or independent, single-person developers.


Produktdetails
Verlag: Apress / Springer, Berlin
Artikelnr. des Verlages: 978-1-4842-2969-9
1st ed.
Seitenzahl: 248
Erscheinungstermin: 20. Juli 2017
Englisch
Abmessung: 235mm x 155mm x 13mm
Gewicht: 387g
ISBN-13: 9781484229699
ISBN-10: 148422969X
Artikelnr.: 48489671
Chapter 1: A Good Game
Chapter Goal: Learn about the most successful video games franchises of all time
No of pages: 15

Chapter 2: Game Developer's Battlestation
Chapter Goal: The basics of computer hardware from a developer's perspective
No of pages: 5

Chapter 3: Game Maker's Lexicon - Level One
Chapter Goal: Concepts and jargon used in game creation for the beginner
No of pages 29

Chapter 4: Commercial Game Engines
Chapter Goal: In-depth reviews of commercial tools for game development
No of pages: 60-65

Chapter 5: Freeware Game Engines
Chapter Goal: Reviews of non-commercial (i.e. free) tools for game development
No of pages: 25-30

Chapter 6: Audiovisual Assets
Chapter Goal: Learn the basic concepts behind digital audiovisuals
No of pages: 20
Chapter 7: Business and Marketing
Chapter Goal: The concepts of commerce crucial to the video game industry
No of pages: 14
Chapter 8: A Brief History of Video Games
Chapter Goal: A detailed look at some of the most popular video games
No of pages: 18

Chapter 9: Game Engine Museum
Chapter Goal: A look at historical game engines and related tools (starting from the 1980s)
No of pages: 10

Chapter 10: Game Maker's Lexicon - Level Two
Chapter Goal: Learn some advanced concepts in video game production
No of pages: 20

Chapter 11: The Mostly Codeless -challenge
Chapter Goal: Achieve an attainable challenge which uses the information contained in the book
No of pages: 1