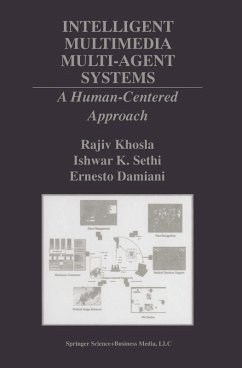 Andere Kunden interessierten sich
auch
für
Intelligent Multimedia Multi-Agent Systems focuses on building intelligent successful systems. The book adopts a human-centered approach and considers various pragmatic issues and problems in areas like intelligent systems, software engineering, multimedia databases, electronic commerce, data mining, enterprise modeling and human-computer interaction for developing a human-centered virtual machine.
The authors describe an ontology of the human-centered virtual machine which includes four components: activity-centered analysis component, problem solving adapter component, transformation agent component, and multimedia based interpretation component. These four components capture the external and internal planes of the system development spectrum. They integrate the physical, social and organizational reality on the external plane with stakeholder goals, tasks and incentives, and organization culture on the internal plane.
The human-centered virtual machine and its four components are used for developing intelligent multimedia multi-agent systems in areas like medical decision support and health informatics, medical image retrieval, e-commerce, face detection and annotation, internet games and sales recruitment. The applications in these areas help to expound various aspects of the human-centered virtual machine including, human-centered domain modeling, distributed intelligence and communication, perceptual and cognitive task modeling, component based software development, and multimedia based data modeling. Further, the applications described in the book employ various intelligent technologies like neural networks, fuzzy logic and knowledge based systems, software engineering artifacts like agents and objects, internet technologies like XML and multimedia artifacts like image, audio, video and text.
Produktdetails
The Springer International Series in Engineering and Computer Science 582
Artikelnr. des Verlages: 978-1-4419-5008-6
Softcover reprint of hardcover 1st ed. 2000
Seitenzahl: 356
Erscheinungstermin: 3. Dezember 2010
Englisch
Abmessung: 235mm x 155mm x 19mm
Gewicht: 540g
ISBN-13: 9781441950086
ISBN-10: 1441950087
Artikelnr.: 32110435
Preface. Acknowledgements. Part I: Motivation, Technologies, Enabling Theories and Human Centered Virtual Machine. 1. Successful Systems or Successful Technologies? 2. Technologies. 3. Pragmatic Considerations and Enabling Theories. 4. Human-Centered System Development Framework. 5. Human-Centered Virtual Machine. Part II: HCVM Applications in Health Informatics, Face Detection, Net Euchre and Sales Recruitment. 6. Intelligent Multimedia Multi-Agent Clinical Diagnosis and Treatment Support System. 7. A Multi-Agent System for Face Detection and Annotation. 8. Modeling Human Dynamics and Breakdowns - Intelligent Agents for Internet Games and Recruitment. Part III: HCVM Applications in Internet and E-Commerce. 9. Intelligent Multimedia Information Management. 10. Brokerage System for Electronic Commerce Based on HCVM. 11. User-Centered Approach to Content-Based Retrieval of medical Images. 12. HCVM Revisited. References.
`For the research-oriented reader the book provides a complete and interesting discussion, enriched of practical results. I consider this book very good to have on one's shelf if one needs to apply software agent technology for advanced multimedia.'
Soft Computing, 5 (2001)
`For the research-oriented reader the book provides a complete and interesting discussion, enriched of practical results. I consider this book very good to have on one's shelf if one needs to apply software agent technology for advanced multimedia.'
Soft Computing, 5 (2001)