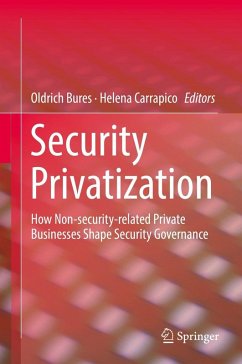 This book widens the current debate on security privatization by examining how and why an increasing number of private actors beyond private military and security companies (PMSCs) have come to perform various security related functions. While PMSCs provide security for profit, most other private sector stakeholders make a profit by selling goods and services that were not originally connected with security in the traditional sense. However, due to the continuous introduction of new legal and technical regulations by public authorities, many non-security-related private businesses now have to perform at least some security functions.

This volume offers new insights into security practices of non-security-related private businesses and their impact on security governance. The contributions extend beyond the conceptual and theoretical arguments in the existing body of literature to offer a range of original case studies on the specific roles of non-security-related private companies of all sizes, from all areas of business and from different geographic regions.


---
Dieser Download kann aus rechtlichen Gründen nur mit Rechnungsadresse in A, B, BG, CY, CZ, D, DK, EW, E, FIN, F, GB, GR, HR, H, IRL, I, LT, L, LR, M, NL, PL, P, R, S, SLO, SK ausgeliefert werden.
Produktdetails
Verlag: Springer-Verlag GmbH
Erscheinungstermin: 29.09.2017
Englisch
ISBN-13: 9783319630106
Artikelnr.: 52944694
1. Private Security Beyond Private Military and Security Companies: Exploring Diversity Within Private-public Collaborations and Its Consequences for Security Governance.- Part I: Privatization of Security: Terminology, Concepts and Theories.- 2. Contributions of Private Businesses to the Provision of Security in the EU: Beyond Public-Private Partnerships.- 3. Who am I? The Blurring of the Private Military and Security Company (PMSC) Category.- Part II: The Continuous Expansion of Security Privatization: Industry and Geographical Trends.- 4. Maritime Security and Transformations in Global Governance.- 5. Privatising Security in Finance: Measures Against the Money Threatening Society.- 6. The Role of For-Profit Actors in Implementing Targeted Sanctions: The case of the European Union.- 7. The New (Private) National Security: Social and Political Consequences of Securitization in the United States Post 9/11.- 8. The Sentinel and the Rebel: Multi-choice Policing in Burundi and the State-centered Approach of Security Sector Reform.- Part III: The Privatization of Security in an Expanding Digital World.- 9. Blurring Public and Private: Cybersecurity in the Age of Regulatory Capitalism.- 10. A Typology of Cybersecurity and Public-Private Partnerships in the Context of the European Union.- 11. Exploring the New Frontiers of Security Privatisation: Web-Based Social Networking Services and Their Challenging Contribution to Foster Security and Public Safety.- 12. Mitigation and Notification of Data Breaches in the European Union: Private Companies in the Driver's Seat of Cybersecurity?